News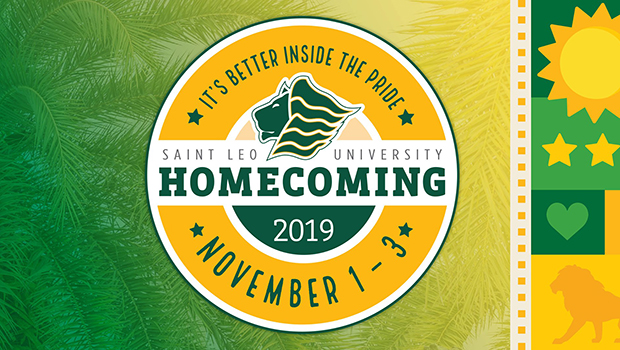 Published on November 2nd, 2019 | by University Communications
0
Saint Leo welcomes alumni, guests for great homecoming weekend
Alumni and guests from throughout the United States and the world came home to Saint Leo to celebrate homecoming weekend at University Campus, November 1 – 3.
Saint Leo College Preparatory School and Holy Name Academy graduates enjoyed good food and sharing memories at a special dinner in their honor, held at the Daniel A. Cannon Memorial Library on Friday. Alumni enjoyed Brews & Bites in Kirk Hall where they sampled local beers and wines, along with tasty appetizers.
The Rho Xi chapter of Alpha Phi Alpha celebrated its 30th anniversary with a scholarship ball. The chapter presented the university with a check for $28,080 for scholarships for Saint Leo students.
On Saturday, attendees enjoyed brunch with President Jeffrey Senese, who discussed the exciting future of Saint Leo. During the brunch, five alumni were given awards in recognition of their accomplishments. Congratulations to the following alumni:
Roaring Onward Recognition: Antonio Cruz '18; Christopher Laney '15; and Kevin Sullivan '13
Benedictine Spirit Award: John Gassler '47. Gassler attended Saint Leo College Preparatory School and credits the education he received as preparation for attending college at the Georgia School of Technology as an electrical engineering co-op student, and later graduating from Georgia Tech with a bachelor's degree in electrical engineering. Glassler has held multiple positions as an avionics engineer with companies such as Eastern Airlines, Sperry Gyroscope Company, and Sunbeam Electronics. Glassler served many years as a volunteer fireman and is very involved in the Knights of Columbus, serving in several local, state, and district capacities.
2019 Distinguished Alumni Award: James Cervera '81. Cervera graduated with a bachelor's degree in criminal justice from the South Hampton Roads Education Center in Virginia and went on to earn a Master of Public Education degree from Old Dominion University. He is employed as the chief of police for the city of Virginia Beach, VA, as well as an adjunct professor at Tidewater Community College, specializing in criminology and social sciences. On May 31, 2019, Virginia Beach experienced a mass shooting at the Virginia Beach Municipal Center. Sixteen people were shot, resulting in the deaths of 11 employees, including two Saint Leo alumni, and visitors. Years of enhanced training and a philosophy of discipline and compassion prepared Cervera to lead officers to immediately respond to the active shooter scene and heroically save additional citizens from the violence.
Later that afternoon, softball and baseball alumni took part in the annual alumni games, and everyone enjoyed the Lions Rally, which featured food trucks, live music by Forrest Hoffar, games, and other activities.
Athletics dominated the afternoon with volleyball and men's and women's soccer games. During the evening's men's basketball game, the homecoming king and queen were crowned. Congratulations to Maurqise McGill and Victoria (Tori) Omoregie, Saint Leo's 2019 homecoming king and queen.
The weekend wrapped up on Sunday with goat yoga, Mass at the Abbey Church, and brunch.