Events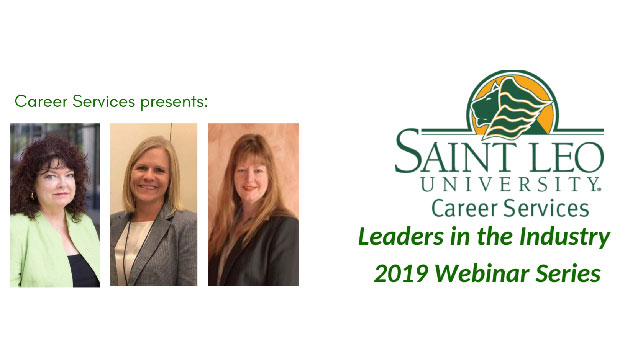 Published on November 8th, 2019 | by University Communications
0
Leaders in the Industry webinar continues November 13
Career Services presents the next Leaders in the Industry 2019 webinar series: Exploring Graduate Studies in Social Services/Sciences. This webinar is scheduled for 6 p.m. on Wednesday, November 13, with (pictured left to right) Dr. Cathleen Dunn, Dr. Courtney Wiest, and Dr. Nancy Wood. The talented trio will discuss the Saint Leo University graduate programs and the variety of certifications and career opportunities available in these fields, which are closely related to one another. RSVP is required.
Master's in Psychology: Dr. Dunn is the director of the Master of Science in psychology program. She has worked in both government and private sector roles and has extensive experience teaching psychology and business management.
Master of Social Work Dr. Wiest now serves as the director of the Master of Social Work program. Her current research interests include creating a sense of community in an online environment.
Master's in Human Services Administration Dr. Wood is the director of the graduate human services administration program, which leads to the Master of Science degree. She has extensive experience in corporate human resource management, leadership, marketing, IT, project management, human services management (part of the nonprofit sector), advocacy, and grantsmanship.
To view the event flyer, click here. For questions and to RSVP, please contact Career Services. To access the webinar, click here using a Chrome browser and enter your first and last name.
The views expressed during this event are those of the speaker/presenter and do not necessarily represent the views of the university.