News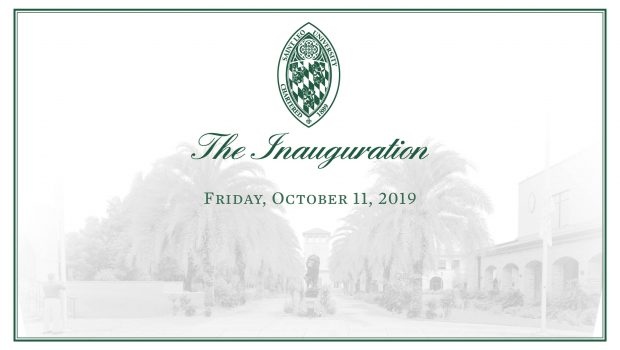 Published on September 30th, 2019 | by University Communications
0
Saint Leo community prepares for inauguration week
Starting on October 4, the Saint Leo University community is invited to attend a variety of events and activities in celebration of the inauguration of President Jeffrey Senese and the beginning of a new era in the university's history. All of the events and activities have been made possible thanks to the generosity of several corporate sponsors and university supporters.
The highlight of inauguration week activities is the inauguration ceremony and reception on Friday, October 11. The installation ceremony and Eucharistic celebration will start promptly at 2 p.m. in the Marion Bowman Activities Center. All attendees must be seated by 1:45 p.m. for the procession. Those not seated by 1:45 p.m. will not be permitted to enter the ceremony until after the procession concludes. In addition, no late entries will be permitted after 2:20 p.m.
Faculty and staff who are not able to attend the ceremony in person may view it online via the livestream.
Delegates from other universities, alumni representing previous graduation classes, students representing our locations from across the United States, the Saint Leo board of trustees, and local community leaders will be in attendance. The ceremony will include Mass presided by Abbot Isaac Camacho, OSB, musical performances, greetings to the president delivered by a faculty, staff, and student representative, and a presidential address from Dr. Senese, among other activities. Following the ceremony, attendees will be invited to a reception on the Kirk Hall lawn.
Other inaugural events taking place throughout the week are listed below. To register and learn more about inauguration week, visit https://www.saintleo.edu/inauguration. Note, space is limited, so it is important that you register if you plan to attend the inauguration ceremony and reception.
For those on University Campus, please be aware that there will be some changes to parking, starting this Wednesday. Changes impact the lot behind Saint Francis Hall and staff and faculty parking on Friday, October 11.
Schedule of Events
FRIDAY, OCTOBER 4
1:30 p.m. – Breakin' for Badges: Inaugural Clay Shoot Classic
Tampa Bay Sporting Clays
A special fundraiser organized by Saint Leo University and the Dade City Police Department will benefit law enforcement professionals who wish to pursue a degree at the university.
Register Now ›
Become a Sponsor ›

MONDAY, OCTOBER 7
4 p.m. – Industry Council
TECO Hall and Lobby
This event will bring together members of industry councils in management, sport business, marketing, accounting, and hospitality. A strategic planning session for College of Business students and faculty will be held from 4 to 4:45 p.m., followed by a meet and greet. The Saint Leo community and public will then be invited to a presentation from Darren Richards, COO of Tucker/Hall, entitled "Disaster and Recovery: Communications Lessons from the Deepwater Horizon Oil Spill."
4:30 p.m. – Public Safety Discussion Panel
Reception: Kirk Hall | Program: Selby Auditorium
Enjoy light refreshments and hear from expert panelists as they discuss current trends and future initiatives that will shape law enforcement's engagement when dealing with mental health issues.
Register Now ›

TUESDAY, OCTOBER 8
4 and 7 p.m. – Fall into Song
Selby Auditorium
Student musical groups will perform songs from the Roaring 20s.
6 p.m. – Student & Staff Kickball Tournament
University Turf Stadium
The university community will come together for some recreational fun.
Register Now ›

FRIDAY, OCTOBER 11
2 p.m. – Inauguration Ceremony
Marion Bowman Activities Center
The Saint Leo University community and esteemed guests will gather in the Marion Bowman Activities Center to celebrate Mass and the installation ceremony.
Register Now ›
4:30 p.m. – Inauguration Reception
Kirk Hall Lawn
Join us after the ceremony for a celebration marking a new era in Saint Leo history. Enjoy complimentary hors d'oeuvres and entertainment.
Register Now ›

SATURDAY, OCTOBER 12
8:30 a.m. – Family Fun Run
Marion Bowman Activities Center
Join the weekly running club hosted by President Senese. Meet outside by the Marion Bowman statue.
1 p.m. – Fall Family Festival
See full schedule of events and locations ›
Saint Leo students, their families, and the campus community are invited to participate in a variety of fun events and activities taking place during inauguration weekend.
6:45 p.m. – Saint Leo Men's Soccer vs. Barry University
Saint Leo Soccer Field
President Senese will kick off the game as guest captain at 6:45 p.m. A fireworks show will light up the sky during halftime around 7:50 p.m.
SUNDAY, OCTOBER 13
10 a.m. – Mass
Saint Leo Abbey Church
Mass will be presided by Abbot Isaac Camacho, OSB.