News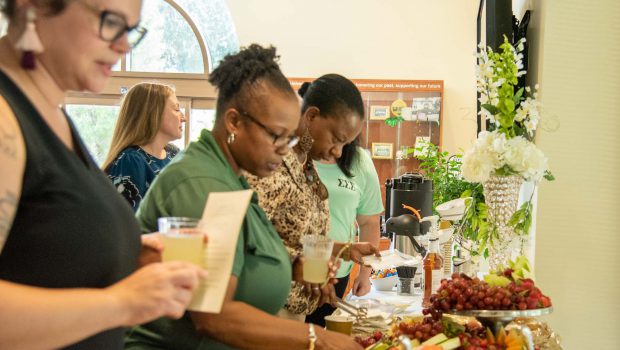 Published on September 4th, 2019 | by University Communications
0
Coffeehouse construction blessed at University Campus
Real coffee is near! On Thursday, August 29, the construction site of Saint Leo's coffeehouse at University Campus was blessed by Abbot Isaac Camacho, OSB. "We are at the beginning of coffee—real coffee," said President Jeffrey D. Senese. He noted the coffeehouse, which will be in the former Stephen Herrmann Mail Center building near Kirk Hall, will be a gathering place. The coffeehouse is expected to open later this fall.
"This is primarily for students," Senese said. "But faculty, staff, and the public are welcome. I'll be in there serving coffee at times."
Senese noted, "We listen to students at Saint Leo," as students requested an on-campus coffeehouse.
"The blessing of this coffeehouse, symbolizes the student-centered nature of our university," said Celine-Deon Palmer, Student Government Union president. "This will fit right into our campus culture of community."
The abbot noted that he is a graduate of Saint Leo and that the coffeehouse is one example of how the university is growing. "Saint Leo is a great place," he said. "Every place we gather becomes a sacred place."
He then led the Saint Leo community in prayer and blessed those attending with holy water. He also blessed the construction site.
Following the blessing, Starbucks coffee, coffee-based treats, desserts, cheeses, and fruits were served in the Student Activities Building.