News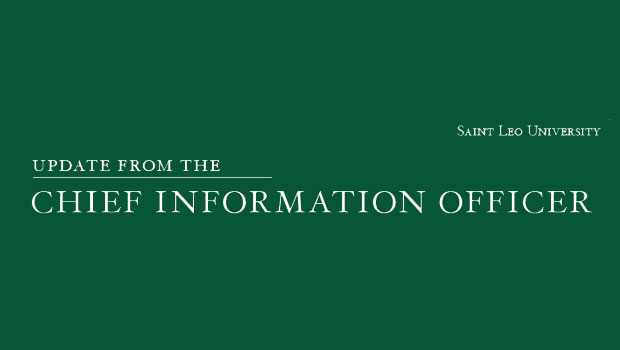 Published on September 20th, 2019 | by University Communications
0
CIO Update—September 2019
To all faculty, and staff:
Please be aware there are many email messages that are intended to scam you and hack into your accounts and personal information. These are SPAM and phishing emails. To fight SPAM and phishing, Saint Leo University has online MS Outlook 365 filters and firewalls that block more than 300,000 incoming emails per day from hackers trying to send to our users. Each day, there are more than 2 billion fake emails on the Internet each day trying to scam email users around the world. It is impossible to stop all new SPAM email attempts, so sometimes an email gets through our filters and arrives in Saint Leo inboxes.
Be aware of the following tactics that signal a suspicious email:
Email messages that ask you to do something such as:
click on a link;
update your password;
verify your account or identification online; or,
login to an account by clicking a web button or link.
These are SPAM or phishing emails that are fake and attempting to get your personal information. We will never ask you to verify your information via a web link online, thus any email asking for that is fake.
Spoofing the "From:" address, which makes it look like a message from someone familiar to you but is actually from a hacker. One clue is to look carefully at the information following the @ sign in the sender's email address. If you receive an email that seems suspicious, but looks like it may be from someone you know, take the extra step to call the contact for verification before taking any action requested in the email.
What to do if you receive a suspicious email:
If you receive a suspicious SPAM email, please disregard it and delete it.
If you are unsure about a message, please contact the Help Desk at (352) 588-8888 or support@saintleo.edu or come to the Technology Building if you are at University Campus.
Do not provide your name, user name, password, or anything personal in response to suspicious emails.
Hover your cursor over the web link in a suspicious email to see if the actual link matches the text of the link or the link at the bottom of the email; if it does not match, it may be a scam.
If the web address at the bottom of the email appears to be a suspicious web address, it may be a scam.
If you have followed a scam web link and given your personal information or account information, please immediately change your password on your Saint Leo account.
For more information on cybersecurity and how to protect your information, visit the following websites:
Coming soon to Saint Leo: We will have our own cybersecurity website and web security awareness blog for Saint Leo University.
Please contact the Help Desk at (352) 588-8888 or support@saintleo.edu, if you have any questions.
Thomas Hull
Chief Information Officer