News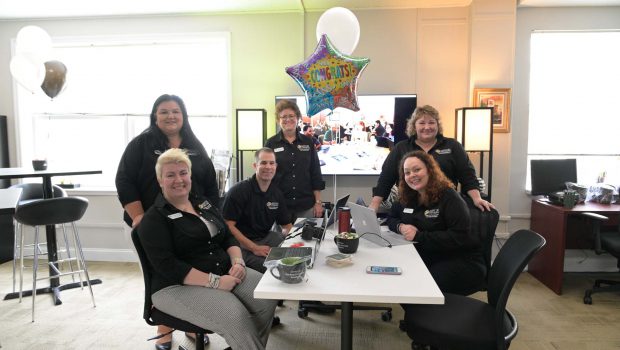 Published on August 25th, 2019 | by University Communications
0
Faculty teaching and learning center hosts open house, launches website
Saint Leo University's Center for Teaching & Learning Excellence recently celebrated two accomplishments—an open house for its location in Saint Edward Hall at University Campus and the launch of a new website.
The center, led by Dr. Candace Roberts, is designed to serve all of the university's faculty, (including adjunct and full-time faculty at all locations and online) by providing resources and support on the latest best practices in teaching. Saint Leo takes pride in being a teaching university, and the center helps to ensure faculty are leaders in this sector.
The center offers support and professional development for teaching in all modalities, including on ground, online, video teleconferencing, and working in interconnected classrooms, among other topics. Training sessions offered through the center are designed to provide faculty with what Roberts calls "micro learning experiences." For example, they can participate on-ground or virtually in a 30-minute Tech Tip Tuesday workshop, a 60-minute Lunch & Learn, a 90-minute workshop on a selected topic, or an online, self-paced course. The goal is to provide professional development options to accommodate the complex schedules and educational needs of the faculty. Roberts said that in past year and a half, more than 230 offerings have been provided.
Now the center has two new resources to offer: a welcoming center location where faculty can come to relax and learn, and a dedicated website.
The center office is an inviting space, offering comfortable plush couches, a dedicated room to attend training, and tables where faculty can meet and work. If attending in-person, they can grab a coffee, or enjoy a warm cookie. The goal is to support faculty, so they are empowered to support our students.
The new Center for Teaching & Learning Excellence website — faculty.saintleo.edu — also was designed with the needs of faculty in mind. It offers resources for submitting scholarly journal articles, information about securing fellowships and grants, details about how to register for upcoming training, and access to a variety of Academic Affairs resources. Roberts said it is a one-stop-shop for most everything faculty need.
The Center for Teaching & Learning Excellence welcomes faculty to stop by the center to learn more or connect with them online or by phone. Contact information for the team can be found on the Center for Teaching & Learning Excellence website.