News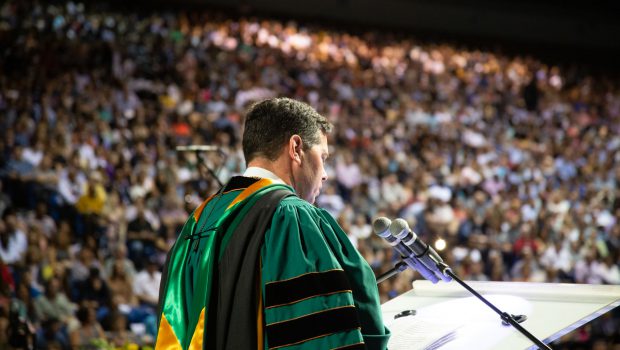 Published on April 29th, 2019 | by University Communications
0
A message from President Senese
A message from President Jeff Senese about commencement weekend:
I want to sincerely thank everyone involved in the commencement weekend events and activities.
The weekend started with Mass, which was packed and well celebrated. It is the way a Catholic institution begins commencement weekend. The Saint Leo Under the Stars celebration was just remarkable! I can't tell you how many families truly raved about the event. It was clear that we provided the context for life-long memories for our Saint Leo community and students.
The commencement ceremonies, too, were absolutely special. Attendance was huge, and we truly filled the arena twice. Families were thrilled with the venue, and it was well appointed for the size and scale of the event. We have arrived as a major university, and these events clearly demonstrated that for the world to see. Thank you to the teams in Facilities Management, Dinning Services, University Ministry, the Registrar's Office, University Communications, Academic Affairs, Student Affairs, University Technology Services, and Alumni Engagement & Sustained Giving for supporting commencement weekend. Thank you to Campus Safety and Security for your presence and to Financial Services for serving students until the last moment. I also appreciate all those who volunteered to help from across the university. I would like to thank every single person involved by name, but I am certain you would not read that lengthy of an email.
Thank you Father Kyle for a wonderful and meaningful Mass, which set the tone for the weekend. I want to thank Amanda Laffin for the truly awesome celebration Friday night! If you were unable to attend, you truly missed a special evening at the university. Thank you to Karen Hatfield for her usual excellent steady guidance of the commencement exercises and especially in a huge new venue. Last, I would like to thank Denny Moller, Jen Shaw, Melanie Storms, and Mary Spoto for their leadership of their areas and collaboration with each other to make this University Campus commencement so spectacular.
Upon reflection this Sunday morning, I am so heartened by what we were able to offer this weekend, which I have not seen in the 50 previous commencements that I led at my other institutions during the past 20 years. And as excellent as I believe things occurred, I have no doubt we will improve upon this weekend to serve our students and their families with even more respect while being responsible stewards.
Thank you, thank you, thank you, all!