News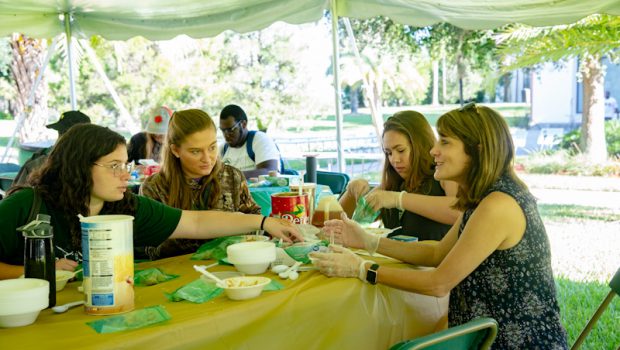 Published on August 31st, 2018 | by University Communications
0
Help our furry friends, support Paws of Love at Saint Leo
Almost everyone is passionate about animals. When Student Affairs was looking for a new service project, animal rescue quickly came to mind, and Paws of Love was born. Now the university community is invited to support the new project, which helps two rescue services and two shelters: The Humane Society of Pasco (County), Pasco County (FL) Animal Services, DC Dogos; and Destiny for Dogs.
Paws of Love is an organization to help rescued and sheltered animals while creating a model for students showing how philanthropy makes a positive impact in the community.
Student Affairs started the project during the summer and during New Student Orientation on August 20, freshmen, transfer students, and others made healthy no-bake dog treats; assembled first aid kits for pets; and created braided dog toys from recycled T-shirts. The Lions tennis teams donated tennis balls to be used for pet toys.
Items will be donated to the rescues and shelters to sell and some items will be sold to those in the community. In addition, monetary donations are being collected. One goal is to raise enough to purchase 140 lasso leashes so that each kennel at Pasco County Animal Services will have its own leash.
As part of Wellness Week, (September 10 – 14), Students Affairs volunteers will man tables to accept donations and share information about Paws of Love. Learn more and make a donation from 11 a.m. to 1 p.m., on Monday, September 10, and Tuesday, September 11, outside of the Student Activities Building. Those who donate $10 will receive a pawprint, and everyone is invited to check out the 4-foot dog bone in the Student Activities Building to watch the progress of the fund drive.
Students may attain community service hours by helping Paws of Love. For those who are scared of dogs or cats or allergic, other opportunities such as helping promote Paws of Love through its social media channels are available.
True to the university's core values, Paws of Love not only helps other creatures and the community, but also "upcycles" items that would go in landfills. By using old T-shirts and tennis balls to make the pet toys, Paws of Love is helping the environment.
For more information, contact Heidi D'Ambrosio, senior coordinator for Student Affairs, at heidi.dambrosio02@saintleo.edu or (352) 588-8992.