Events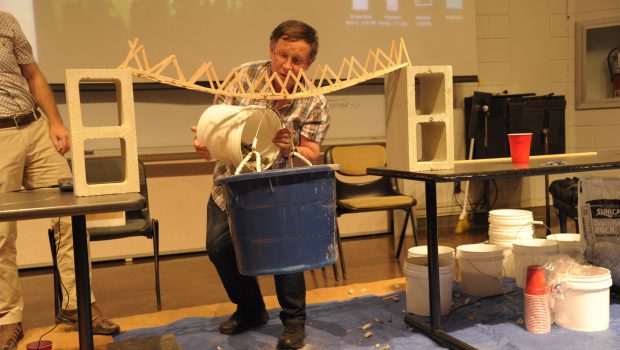 Published on February 23rd, 2018 | by University Communications
0
Guests invited to annual Bridge-Breaking Competition at University Campus March 6
The university community, area families with children, and the general public are invited to come watch the annual Bridge-Breaking Competition held by Saint Leo University's Department of Mathematics and Science on Tuesday, March 6, at 6 p.m., in Selby Auditorium, Lewis Hall. Admission is free.
The competition features teams of students enrolled in physics classes who work together to construct model bridges from kits of lightweight wooden sticks and glue. First, the audience votes on which bridge is most attractive. Then faculty members test each bridge to see which one can hold the most weight before it breaks apart, which is suspenseful and fun to watch. The sturdiest bridge is declared winner.
Young children and parents who want to come are given preferred seating in front; young guests are not expected to stay for the whole contest.
For more information or to reserve a spot, contact Dr. Thomas Ricard at thomas.ricard@saintleo.edu or at (352) 588-8024, or Dr. Leo Ondrovic at leo.ondrovic@saintleo.edu or at (352) 588-7408.