News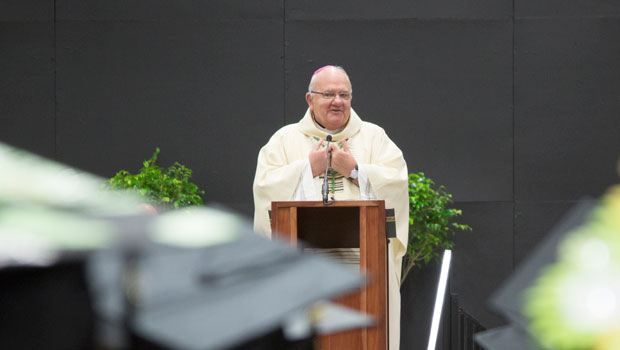 Published on June 13th, 2016 | by University Communications
0
Prayer for a new bishop
On May 27, 2016, the Most Reverend Robert Lynch '97, a member of the Saint Leo University Board of Trustees, submitted his formal request to Pope Francis asking that he be allowed to retire as the bishop of the Diocese of St. Petersburg, having reached the mandatory age limit (75) for bishops.
We are now in a time of prayer as we await the announcement of a new bishop. Please pray and ask the Holy Spirit to guide the efforts of the Congregation for Bishops in Rome to provide a shepherd to lead this vast and culturally diverse diocese.
Prayer for a New Bishop
Almighty and all loving God,
eternal shepherd and guide,
we are grateful for Bishop Lynch
and his 20 years of ministry in our diocese.
During this time of transition, we trust in your love,
confident that you will once again give to the Diocese of St. Petersburg
a shepherd who will inspire us to be
Christ's heart of mercy,
His voice of hope and hands of justice.
Guide our new bishop to enlighten
our hearts and minds with the truth of the Gospel,
the power of the sacraments,
and the desire to serve you in all things.
We ask this through Jesus Christ our Lord.
Amen.