News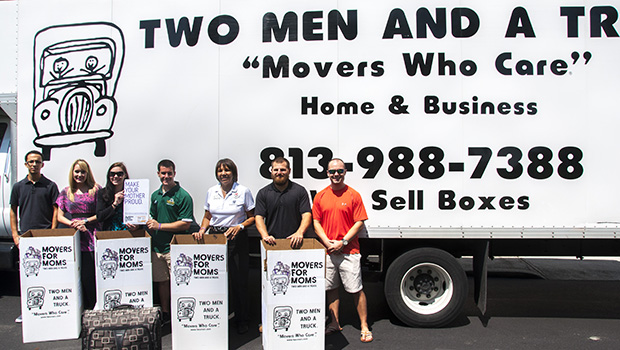 Published on March 21st, 2016 | by University Communications
0
Make your mother proud
For the third consecutive year, Saint Leo University and Two Men and a Truck® are partnering on a community project—the Movers for Moms® program, which benefits two local women's shelters. Items collected during the months of March and of April will be delivered to Sunrise of Pasco County Domestic Violence and Sexual Assault Center and Alpha House of Tampa on Mother's Day. Saint Leo previously participated in this program and a similar project, Movers For Military®, for our homeless military veterans.
This collection drive is being supported by the Saint Leo University Social Work Club and Student Affairs.
Seven collection boxes have been placed in high-traffic areas at University Campus as follows:
Donald R. Tapia School of Business building lobby
Kirk Hall lobby
Marion Bowman Activities Center lobby
Student Activities Building lobby
Student Community Center lobby
Student Community Center dining hall lobby
Student Apartments 5 & 6 (fish tank lobby area)
Sunrise of Pasco County's wish list includes:
Pillows, comforters, and full size towels
Children's clothing and items (socks, underwear, diapers, diaper rash ointment, baby shampoo and lotion, body wash, and sippy cups)
Cleaning equipment and supplies (brooms, sponges, large mop heads, floor cleaner, cleaning spray, and Lysol air freshener)
Medicines (Adult Tylenol, Ibuprofen, Neosporin, Alka Seltzer chewable, and cold and flu medicine)
Hair and shower products (ethnic – combs, brushes, and picks, shower caps, hairspray, and adult body lotion)
Adult products (socks, ladies underwear, and tampons)
Miscellaneous items (coffee filters, aluminum pans, cast aluminum pots, Saran Wrap, sewing kit, and nail clippers)
Alpha House of Tampa has requested these items for moms and babies (must be new and in original packaging):
Pillows and pillowcases
Sheets for twin beds, cribs, and toddler beds – white and beige
Comforters and blankets for twin and toddler beds
Towels and washcloths – white and beige
Women's socks
Baby wash, shampoo, baby powder, and lotions
Diaper rash cream
Canned vegetables, soup, ravioli, tuna, and chicken
Pasta, sauces, and instant rice
Cereal – all boxed types plus oatmeal and grits
Powdered milk
Juice
Peanut butter and jelly
Snacks – any type of chips, crackers, bars
The last day to donate items is Friday, April 29.
Thank you for your support of this collection drive. For more information about the Movers for Moms® program, contact Eugenia Parlow, at Two Men and a Truck®, (813) 245-8519 or eugenia.parlow@twomen.com.