Events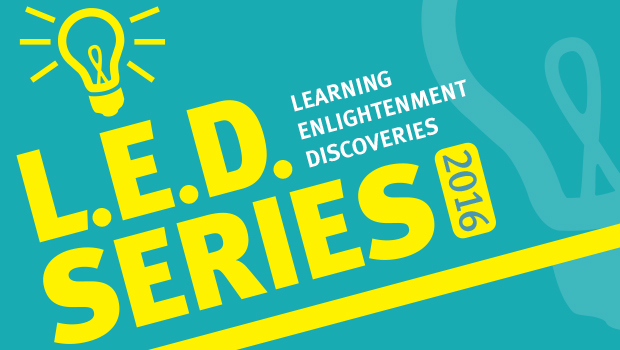 Published on March 14th, 2016 | by University Communications
0
Arts and Sciences' LED Series
The LED Series: Learning, Enlightenment, Discoveries
The School of Arts and Sciences will celebrate its fourth LED Series with two one-hour panel presentations. In the spirit of the popular TED talks (Technology, Entertainment, Design), this series of faculty-led presentations and discussions is designed for both Saint Leo University students and the wider community to showcase the richness of intellectual life in our school. We aim to share the exciting and inspiring ideas explored in our own diverse areas of interest with the larger Saint Leo community. The theme for this spring's LED Series is "Mystery and Wonder," and our faculty have prepared their presentations on this theme according to their respective fields and research.
Tuesday, March 22 – Selby Auditorium in Lewis Hall, 5 – 6 p.m.
Dr. Patricia Campion, associate professor of global studies and sociology
"The Power of Jesus and the Power of Rituals: The Fiesta del Gran Poder as Showcase for the Resurgence of Aymara Identity in Bolivia"
Dr. Karen Bryant, assistant professor of language studies, and Dr. Randall Woodard, associate professor of religion
"Happiness Is No Mystery: Practical Strategies for Creating a Fulfilling Life"
Dr. Laura Altfeld, associate professor of biology/ecology
"Robert Frost, Ants, and the Smell of Death"
This event can be viewed online.
Monday, March 28 – Greenfelder-Denlinger Boardrooms in the Student Community Center (SCC), 12:30 – 1:30 p.m.
Dr. Brian Camp, assistant professor of mathematics, and Dr. Monika Kiss, associate professor of mathematics
"Fibonacci: Building the Parthenon One Rabbit at a Time"
Pam DeCius, instructor of language studies and the arts
"Fordite: The Mysterious Motor City Agate"
Dr. Shawn Weatherford, associate professor of physics
"Nature's Ghosts: Finding the Unseen Lurking in the Darkness"
This event can be viewed online.
For more information, contact Megan Orendorf, the administrator of events and special programs for the School of Arts and Sciences, at (352) 588-8401 or jennifer.orendorf@saintleo.edu.