News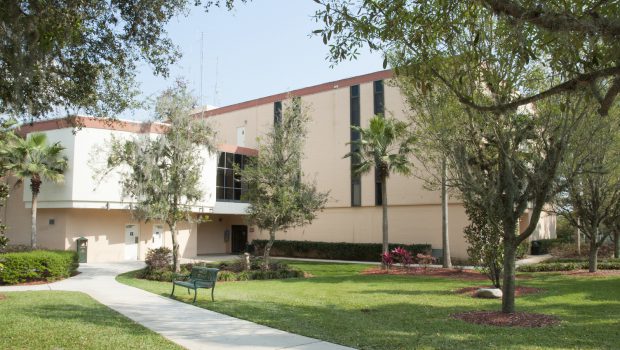 Published on August 9th, 2020 | by University Communications
0
Facilities Management prepares campus for safe, healthy Fall Semester
Facilities Management employees have been busy this summer preparing University Campus and making improvements to keep students, faculty, and staff healthy and safe.
"Protecting the pride" is at the forefront of Facilities Management's preparations. With support from colleagues in Student Affairs and Academic Affairs, the following steps have already taken place to ready us for the return of students this Fall Semester and in response to COVID-19 including:
the installation of Plexiglas shields in 20 locations including key student service areas such as the Dining Hall, Student Financial Services (in Saint Edward Hall); the Center for Academic Vision and Excellence in Kirk Hall among others;
the placement of additional hand sanitizer dispensers throughout campus and disinfecting supplies in every classroom;
the creation of designated temperature-check stations in key buildings including a hands-free infrared system in the Dining Hall, which monitors both temperature and the use of a face covering (Two additional portable units are available for use at large group meetings when such meetings are approved.);
the use of specialized cleaning supplies including Occupational Safety and Health Administration- (OSHA) and U.S. Food and Drug Administration- (FDA) approved chemicals, and equipment such as foggers and electromagnetic units;
the upgrade of our air conditioning filters and the introduction of additional fresh air; and,
the introduction of signage across campus to alert the community to our safety requirements and provide guidance on appropriate physical distancing.
In addition to routine cleaning, this fall, Saint Leo's housekeeping crew will conduct specialized cleaning. For example, the university purchased a two-cart system which includes an electromagnetic cleaning machine that dispenses Clorox bleach through the air to kill viruses. These machines will be used to clean large areas and for larger events. The Athletics Department also purchased specialized equipment to clean the Marion Bowman Activities Center.
An outside cleaning service also has been hired to sanitize buildings overnight. Beginning the week of August 17, all administrative buildings will close at 8 p.m., and all academic buildings at 10 p.m., for an advanced nightly cleaning protocol, including the use of foggers. On Sundays, this service will include a high-intensity deep cleaning to prepare for the following week.
Students, faculty, and staff are also encouraged to use the supplies provided to clean the areas (such as desks and chairs) before they leave the classrooms. "It is up to each individual to protect each other," Caban said. "We all need to do our part.
"Our goal, and our mission statement, is to provide a clean, safe, and healthy environment where faculty, staff, and students live and learn," Caban said. "We are fortunate that the CARES [Coronavirus Aid, Relief, and Economic Security} Act funding the university received was able to be used to support these enhancements to our facility and services."
While preparing for the new challenges presented by COVID-19. the Facilities Management team also has been hard at work addressing the university's needs in other areas of plant operations.
Lewis Hall, which houses classrooms, laboratories and the Selby Auditorium, received major upgrades including the replacement of an outdated air handler and the installation of a new high quality fresh air intake system. All of the air systems were cleaned throughout the building, too. In addition, a small prep-kitchen on the first floor of Lewis Hall was updated with a full-size refrigerator, and new counters, sinks, and plumbing. Work is also underway for much needed upgrades to Saint Leo's chiller plant to ensure adequate service for our air conditioning needs.
Several other areas of campus underwent summer renovations, with a few projects still underway. Stay tuned for additional news about changes in Dining Services, for example.