News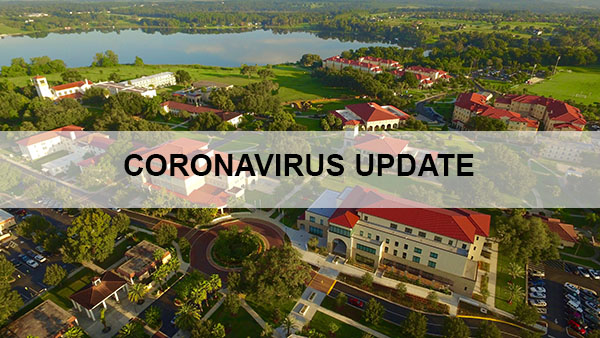 Published on March 25th, 2020 | by University Communications
0
A Message from President Senese: We're Here for You
Dear Saint Leo University Community,
With our university fully completing the transition to online classes this week, I wanted to take a moment to remind you all of the support that exists within our university community. News reports about the coronavirus continue to paint a concerning picture, and I know that many of you and your loved ones may be facing challenges with this situation.
It is natural to feel apprehensive or become distracted by the impacts of the virus situation we are in at present. This indeed is an unpredictable and unprecedented time in our nation's history. But while there are many unknowns, what I do know is that we will be able to get through this time with the help and support of others.
At Saint Leo University, we strive to be and are a tremendously helpful and caring community. Please know that we are here to help one another succeed. In speaking with Lawson Jolly, our director of Counseling Services this week, I want to share some helpful advice he provided as well as some of my own:
Communicate
Whether you are a student facing difficulty completing your assignments or using the online technology, or a faculty or staff member facing the challenge of working from home, I urge you to communicate your concerns, should you have them, with the appropriate individual (your instructor, your supervisor, or Human Resources business partner, etc.). The most important part of my advice is that I am asking you to communicate because they cannot help if they do not know you need help. We care about your well-being, and we are available to assist you.
Have Patience
Just as the spread of the virus is new to our world, it is new to all of us at Saint Leo University. I know many of you are wondering about what is next for our university. We've received questions from students wondering about our plans for the celebration of commencement, if our grading criteria will be changed, or if refunds will be provided for student residence or meal plans. Please know the leadership team and I are working through these details and will share information about these matters as soon as possible. Faculty and staff also have similar questions, many of them centering around working from home, planning events, managing remote workers, or scheduling work activities. I ask each of you to communicate as well. Please do not guess the answers to your questions on your own. Talk to your supervisor or Human Resources, and they will help you find answers.
Practice Empathy
Now to Jolly's advice, I agree with him when he urged us to remember that everyone is facing their own unique challenges. While some members of our community may be able to maintain business as usual, other members may be faced with critical issues impacting their way of life. We don't know what others are going through, so let's do our best to have compassion.
Again, at Saint Leo University, we are here to support you. Students, please know that Counseling Services is available around-the-clock at (352) 588-TALK, and our Student Financial Services team is available for consultation at (800) 240-7658. Faculty and staff, our employee assistance program (EAP), a free benefit available by phone at (877) 398-5816, is available to support you, as well as our Human Resources team.
We will get through this time, we just have to do it together. Wishing you health and peace of mind. May God bless.
Very sincerely yours,
Jeffrey D. Senese, Ph.D.
President