Events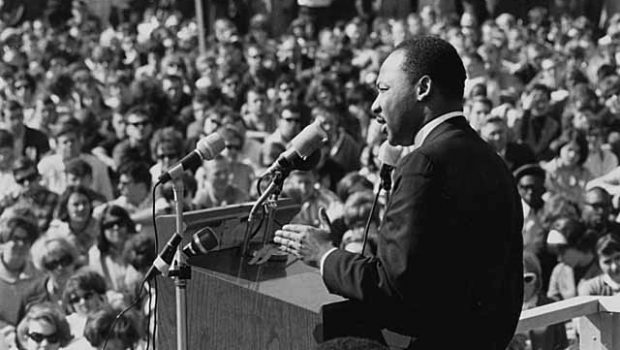 Published on January 10th, 2020 | by University Communications
0
Saint Leo's MLK Week observances begin January 17
"Life's most persistent and urgent question is, 'What are you doing for others?'" Martin Luther King Jr. posed that question, and Saint Leo University is taking up his cause. This year, the university will celebrate Dr. Martin Luther King Jr. Week, beginning with activities on Friday, January 17. Several activities will take place January 17 through the following Friday, January 24. These include:
Saint Leo's grounds at 33701 State Road 52, St. Leo, FL, will feature signs with quotes from King's speeches, writings, and books. Guests are invited to walk the campus and reflect on King's thoughts.
"Giving Chain" — At tables set up around campus, students will be asked, "What will you commit to give in the coming year to help others?" and they will write on construction paper which is stapled into a ring and then linked to create a chain, which will be displayed on campus.
King book read and giveaway — Saint Leo's College of Education and Social Services is partnering with Student Affairs to read and donate books about King to classrooms. Education students, Kappa Delta Pi education honor society members, and Florida Future Educators of America members will read to classrooms in 10 schools, including West Zephyrhills, Cox, and Lacoochee elementary schools in Pasco County. After reading to the children, the book, Love Will See You Through: Martin Luther King Jr.'s Six Guiding Beliefs (as told by his niece), will be donated to that classroom.
Kicking off the Dr. Martin Luther King Jr. Week observances will be a luncheon, from noon to 1:15 p.m., Friday, January 17. Former State Rep. Edwin Narain, Saint Leo alumnus and a member of the Saint Leo University Board of Trustees, will be the special speaker for the luncheon in the Student Community Center boardrooms. Narain served as chair of the Florida Legislative Black Caucus, and he is the director of external and legislative affairs for AT&T. Other featured speakers and performers are University President Jeffrey Senese; Pastor Quincy Stratford of Carmel Friendship Church in Wesley Chapel; Carmel Friendship Church choir; and solo vocalist Maurqise McGill, a Saint Leo student. To attend, the luncheon, request a free ticket at jen.shaw@saintleo.edu.
A special ceremony will be held from 1:15 to 2 p.m. Friday, January 17, following the luncheon. The ceremony will be at the A Spirit of Belonging sculpture between apartment buildings 5 and 6. The sculpture commemorates the acceptance of Saint Leo's first black student, Rudolph Antorcha, who arrived from Cuba in 1898. He was accepted as a student at a time when it was illegal for black students to attend school with white students. Everyone is welcome to attend the ceremony, which will feature a wreath being laid and white doves of peace will be released during a brief reading from King's Nobel Peace Prize acceptance speech. Refreshments will be served following the ceremony. Other events include the following:
On Martin Luther King Jr. Day, Monday, January 20, Saint Leo will hold its annual MLK Day of Service. Students, faculty, and staff may volunteer at activities taking place on and off campus including writing letters to hospitalized children; creating care packages of toiletries for aid organizations; helping on a Habitat for Humanity home; and at PB & J for Tampa Bay, making and distributing peanut butter and jelly sandwiches. If interested in volunteering, register here.
A workshop and lunch for students will be held on Tuesday, January 21, in the Boardrooms "Be Color Brave, Not Color Blind" will be presented by attorney Rasheed Cromwell. Students should email brandee.greaves@saintleo.edu to attend.
Motivational speaker and rapper Bunduki Ramadan, a native of Somalia, will share his story at 7 p.m., Tuesday, January 21, in the Student Community Center boardrooms. The public is invited. Known as Hip Hop Duke, he is an Atlanta-based hip-hop artist and rapper whose story is featured in the documentary HipHopDuke: Uplifting Rap. His messages of working hard, being kind, and overcoming obstacles resonate with diverse audiences of all ages.
The powerful Dear World interactive portrait project will return to Saint Leo for Martin Luther King Jr. Week. On Wednesday, January 22, Dear World will work with 100 pre-selected students to have their stories memorialized in a portrait and on the second night, the stories are shared with attendees. Students, faculty, and staff are invited to take part in the Dear World project from 9 a.m. to 6 p.m., Thursday, January 23, in the boardrooms. Saint Leo's stories will be revealed later and shared via the Dear World website. Dear World is a photography project "that unites people through pictures in their distinct message-on-skin style." The goal for the project is to find understanding and common ground among the Saint Leo community members. Dear World also came to Saint Leo in 2016.
Peace, Paint, and Vibe will take place from 10 a.m. to 1 p.m., Friday, January, 24, in the Fine Arts Building, and is co-sponsored by the College of Arts and Sciences and Student Affairs. Students will enjoy creating their own "peace painting" facilitated by Saint Leo instructor and alumna Rachel Hernandez. To sign up, https://www.signupgenius.com/go/8050945ADAC2CA5F49-peace.
For more information about Saint Leo University's Martin Luther King Jr. Week observances, contact Student Affairs at (352) 588-8206. The views expressed during this event are those of the speaker/presenter and do not necessarily represent the views of the university.