News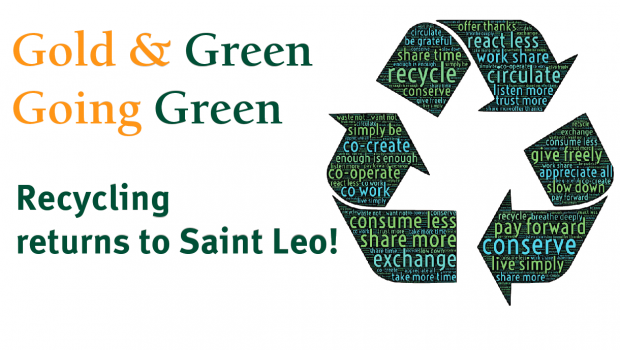 Published on December 13th, 2019 | by University Communications
0
Recycling returns to Saint Leo!
The University Senate's Environmental Committee, along with Facilities and Dining Services, has reinstated the university's recycling program at University Campus. The committee's mission is to provide a clean, safe, and healthy environment for all students, faculty, staff, and visitors; its vision is to be forward thinking in its implementation of net positive projects—contributing more than is taken and aspiring to have a broad positive effect that goes beyond reducing the university's environmental impact.
The recycling program was discontinued a few years ago, essentially because it became too costly because of fines for contaminated recycling bins. Saint Leo was fined $10,000 for each recycling bin contaminated with food or other non-recyclable waste. If there is even one piece of pizza in one box in a recycling dumpster, the entire container is considered contaminated and none of the material inside can be recycled.
Here is an overview of what was accomplished through these efforts between January and October 2019:
In January 2019, students were hired through Federal Work Study to assist with University Campus recycling collections.
All of the paper products used by Dining Services are now biodegradable. Wax coated products are no longer used.
Dining Services uses paper straws as often as possible, barring times there are manufacturing issues when paper straws cannot be sourced.
Dining Services now turns meat and vegetable scraps from the meal preparation process into stocks, soups, or they are given to local farmers for their animals to consume.
The university recycled 17 tons of material. Diverted materials included:

Paper, 1.7 tons
Plastic, 0.85 tons
Aluminum, 0.68 tons
Cardboard, 13.77 tons
These recycling efforts also conserved resources!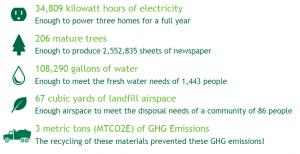 The recycling and waste data used above this report is based on actual customer data and historic Waste Management studies.
Look for the big blue recycling bins!
Though recycling is currently not collected at every desk or office location, large blue recycling bins are available for use at many locations across University Campus. More detailed information about collection locations will come in the new calendar year.
In the meantime, be sure to recycle paper, plastic, and aluminum cans and to keep all recycling free of contamination of food or other non-recyclable waste. Saint Leo uses single stream recycling, meaning all recyclables can go into the same containers and do not need to be sorted.
Need more information? Interested in volunteering? Contact University Senate Environmental Committee Chair Noel Quiles at (352) 588-7547 or noel.quiles@saintleo.edu.