News
Published on July 1st, 2019 | by University Communications
0
Applause
Applause is a new monthly feature that will celebrate the successes of Saint Leo University faculty and staff. If you would like to submit an accomplishment, please send details to news@saintleo.edu. Highlights may include external leadership appointments, awards, and notable presentation opportunities.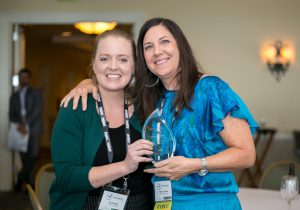 Nancy Cheek, interim director of Career Services, was named by her Colleges of Central Florida Career Consortium (CCFCC) peers as the CCFCC Member of the Year 2019. She was honored for her contributions to the organization's mission of collaborating to bring more resources to students and employers. The first CCFCC Virtual Employer Expo, in planning for several years, was launched and supported technically by Cheek and Saint Leo University in November for the 14 partner schools in the consortium.
Dr. Iain Duffy, a member of the science faculty at University Campus, began serving as president of the Florida Academy of Sciences in March. The term of office is two years. The statewide group is comprised of scholars from the life sciences, physical sciences, social sciences, computer and mathematical sciences, and science teaching.
Jeffrey Golden, a criminal justice adjunct faculty member at the Jacksonville Education Center, was appointed by the Jacksonville City Council President Aaron Bowman to represent higher education institutions in the area and serve on the city's task force on safety and crime reduction. More than 150 applied to serve on the task force, and Golden was one of 49 to be chosen.
Steve Kistulentz, associate professor of English and director of the university's Master of Arts program in creative writing, was named poet laureate of Safety Harbor, a community in Pinellas County.
Mary McCoy, university writer and media relations, was named to the Catholic Diocese of St. Petersburg Communications Advisory Committee. The committee, led by the diocese's communications team, is comprised of Tampa Bay area media, marketing, and communications professionals. Mary also recently served as a judge for the Pasco County Clerk & Comptroller's Constitution Essay Contest and presented the winners with Saint Leo gear.
Dr. Kenneth Posner, vice president of Student Affairs, was elected treasurer of the Southern Association for College Student Affairs, a regional professional association representing educators from throughout the south.