News
Published on March 19th, 2019 | by University Communications
0
In memoriam—Sister Helen Lange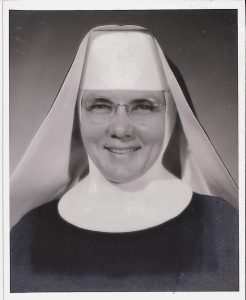 The Saint Leo University community mourns the loss of Sister Helen Lange, 105, who passed away peacefully on Monday, March 18.
Sister Helen Lange came to the Benedictine Sisters of Florida from Olfen, TX, in 1930. She was one of eight children born to Joseph and Helena Matthiesen Lange at home on the family farm. The family was devoutly Catholic. Confession, weekly Mass, and choir practice was entrenched in the life of the family and that of their small community. Sister Helen felt blessed and loved by her parents. Their deeply religious life included the love of music. They all played an instrument, sang, and as the children grew older, a band was formed.
That life, along with school, planted the seeds of Sister Helen's vocation as a religious sister. Upon graduating from high school, she and cousins Irma, Pauline, Rosaria, and Rosanna bravely boarded a train for Florida to join the Benedictine Sisters of Florida. Sister Helen related their departure in her 1999 memoir, Kicking the Habit. Warned by Sister Rita, the girls' guardian for the trip, "There were to be no tears." Sister Helen recalled saying to Rosaria, "My God! What have we gotten ourselves into?" The tears did come.
It did not take the cousins long to become known as "The Texas Five." They took to their new life by staying busy working, praying, and studying the Rule of St. Benedict and the meaning of religious life. Sister Helen entered postulancy on July 27, 1930, the novitiate on January 27, 1931, and made her perpetual profession on January 28, 1935. She attended Loyola University of the South, Our Lady of the Lake in San Antonio, TX, Barry College (now Barry University) in Miami, FL, Mount St. Scholastic in Kansas, the Catholic University of America, and San Angelo State University, Texas. She also took classes at the Manhattan College of Music.
Sister Helen taught elementary and music education for 44 years throughout Florida and held administrative posts in New Orleans, LA; Ocala, FL; Jacksonville Beach, FL; Sarasota, FL; North Miami, FL; Venice, FL; St. Leo, FL; and San Antonio, FL. She also was active in special summer sessions and catechetical camps at Our Lady of Good Counsel Camp.
Upon retiring from the teaching profession, Sister Helen studied gerontology and served as pastoral minister at Bon Secour Maria Manor nursing home in St. Petersburg, FL, and Our Lady of the Snows in Belleville, IL. She also served as the on-site coordinator with the Elderhostel program that was hosted in the 1990s by the Benedictine Sisters at Holy Name.
Sister Helen enjoyed interaction with people and during the past six years of her life at Heritage Park Health and Rehabilitation Center in Dade City, FL, she continued her service by walking the halls ministering to other residents. Her overriding philosophy was that "to be happy and have no regrets – live a life of hard work and love for God and people." In celebrating her 80th jubilee in 2012 at the Diocese of St. Petersburg luncheon, Bishop Robert Lynch was at a loss because there was no name such as "diamond" for an 80th jubilee.
Many of Sister Helen's students and their parents remained her friends throughout her life. They came to visit, invited her to their class reunions, and even traveled distances to attend significant birthday parties in her honor. In notifying many of them of Sister Helen's peaceful passing on Monday, March 18, stories were shared about what an impact she made in their lives. One parent who had all five of her children go through Epiphany Elementary School in Venice, FL, where Sister Helen was principal said, "Sister was so active – I know she is [going] up and down the halls of heaven now!"
A funeral Mass was celebrated March 23 at Holy Name Monastery, 12138 Wichers Road, St. Leo, FL 33574 (Exit 285 off Interstate 75) with a reception following at St. Anthony Parish Hall, 32825 Rhode Island Ave, San Antonio, FL 33576.
Donations in honor of Sister Helen may be made to the Benedictine Sisters of Florida, P.O. Box 2450, St. Leo, FL 33574-2450.
If you have an in memoriam announcement to share, please send details to news@saintleo.edu. Please note that written permission from the employee's family or the employee is needed before any announcements can be shared with the university community.