Events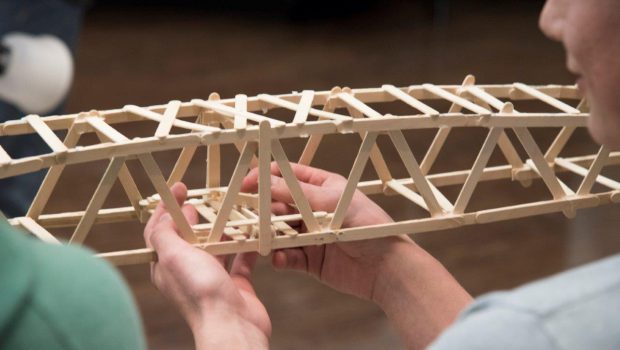 Published on February 7th, 2019 | by University Communications
0
Annual Bridge-Breaking Competition at University Campus Set for March 4
The Department of Mathematics and Science will hold the annual Bridge-Breaking Competition on Monday, March 4, at 6 p.m. in Selby Auditorium, Lewis Hall. The university community and public are invited to watch, especially families with young children.
The contest involves teams of Saint Leo students enrolled in participating science classes. The teams compete to see who constructed the sturdiest model bridge from lightweight wood sticks and glue. All the student teams are issued the same materials, in the same quantities, so no one team has an advantage. First, the bridges are put on display and audience members cast votes for the most attractive bridge. Then faculty judges test the bridges to see which one can support the most weight to determine the winner. All the bridges eventually break or collapse during the testing, which is suspenseful to watch and shows how much fun science can be.
Visiting families can be seated in front if they wish. Families with children are not expected to stay for the entire event.
To request a reserved seat or for more information, contact Dr. Leo Ondrovic at leo.ondrovic@saintleo.edu or (352) 588-7408.