Events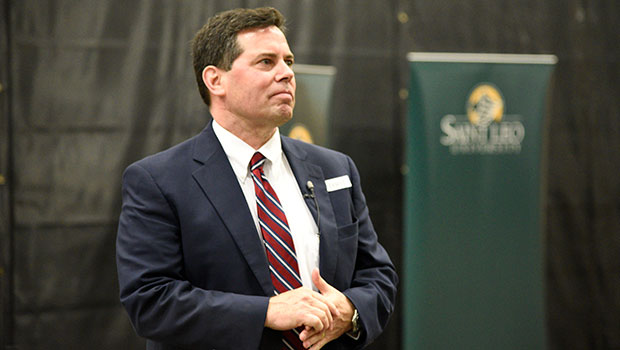 Published on November 21st, 2018 | by University Communications
0
Save the date for Community Day, learn about Values Awards
Community Day, January 4
Saint Leo University's Spring Semester Community Day will take place on Friday, January 4, at 1 p.m. in the Marion Bowman Activities Center. All faculty and staff members are encouraged to attend as we gather to kick off a new semester.
The meeting will be livestreamed so that faculty and staff at other locations can view it live or watch the video at a later date. The livestream link is http://itod.saintleo.edu/Mediasite/Play/a434ce8ef1a44a388cf0884c1e4c84cb1d.
As is custom, President Senese will present a State of the University address and take questions from faculty and staff. Questions may be submitted in advance to presidentsoffice@saintleo.edu. A reception will follow the meeting in the Bowman Center.
Nominations for Values Awards
In addition to recognizing staff and faculty for years of service at Community Day, we will also recognize employees who exemplify in an extraordinary way one of Saint Leo University's six core values: Respect, Excellence, Community, Integrity, Responsible Stewardship, or Personal Development.
Please submit nominations to presidentsoffice@saintleo.edu by Friday, December 7, and include the following information:
Name of nominee
Title
Location
Core value demonstrated
Three to five sentences about how the nominee demonstrates the core value
For more information, please contact Special Assistant to the President Molly-Dodd Adams at molly-dodd.adams@saintleo.edu or (352) 588-8291.