News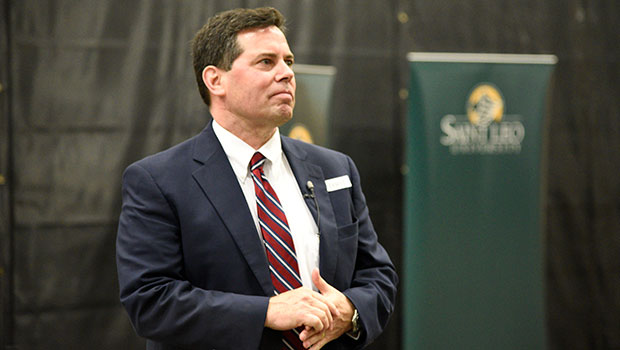 Published on August 17th, 2018 | by University Communications
0
President Senese shares new vision for new academic year
Last Wednesday, faculty and staff across the university gathered together at the Marion Bowmen Activities Center and online for our annual Community Day. The event serves as a time to celebrate staff service anniversaries and come together to build a bright, new future for Saint Leo University.
In addition to celebrating faculty and staff with five, 10, 15, 20, 30, 35, and 40 years of service, President Senese recognized several employees for exemplifying Saint Leo values in their day-to-day work:
Excellence: Peggy Johnson, housekeeping supervisor, Facilities Management
Community: Heidi D'Ambrosio, senior coordinator, Student Affairs
Respect: Eusebio Herrera-Montoya, financial aid manager, Financial Aid
Integrity: Anthony Smith, server administrator II, University Technology Services
Personal Development: Noel Quiles, talent specialist, Talent Development
Responsible Stewardship: Daron McNab, director of applications, University Technology Services
_DSC6077-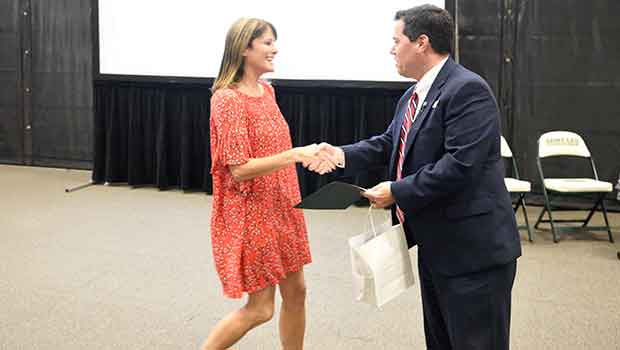 A significant portion of Community Day included an update on the state of the university from Dr. Senese, who talked about the university's goals for future growth and briefly on the new strategic plan.

"Action is the word," said Senese. "I want us to be decidedly action-orientated. We need everyone thinking about what the next step is for Saint Leo University."

Saint Leo's strategic plan for the next few years will include three focus areas: culture, academics, and growth. Within the plan are several opportunities that will help elevate the university, with some work coming together quickly. Already, the university has started to pave the way for a new health and wellness center building.

Dr. Senese also spoke to the importance of growing the university, laying out four growth strategies: programmatic, national, main campus, and online and international.

In the end, Dr. Senese wrapped up his presentation by encouraging faculty and staff to be determined, inventive, collaborative, resilient, entrepreneurial, and agile. He shared that the goal for the university is simple, to be No. 1.