News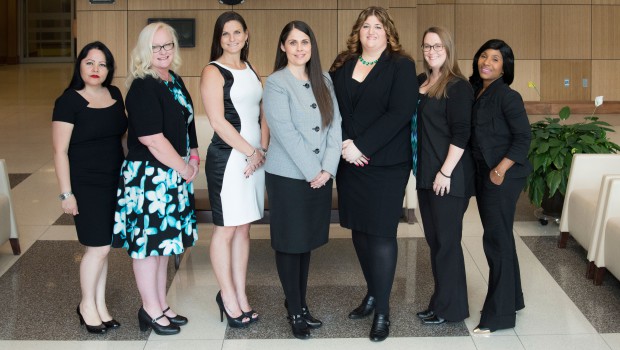 Published on April 25th, 2016 | by University Communications
0
The new faces of Human Resources
Associate Vice President of Human Resources Sheri Neshiem is dedicated to changing the Human Resources Department from a transaction-focused, reactive organization to one that is proactive, strategic, and employee-centric. She has designed and staffed her team to meet these goals.
The department of Human Resources plays an essential role in the operations of Saint Leo University. Recently, HR has gone through a transformation which involves modifying the way we operate and do business. Previously, the Human Resources department functioned as individual units communicating with the university. At present, HR has evolved to a department focused on team-based approaches and collaborative problem-solving. Our new Human Resources Department team includes: Sheri Neshiem, Susan Martin, Angela Herrington-Hayes, Sharon Scruggs, Stephanie Lewis, Sara Agudelo, and Karla Arita.
We will endeavor to constantly challenge ourselves and provide the highest quality of service while demonstrating professionalism, courtesy, and respect. As a result, our new organizational structure will benefit both our employees and our Saint Leo University colleagues.
We plan to build on the existing strengths within HR to deliver the fundamentals well, give reliable solutions-focused advice, and build a strong business partnership with our leaders across the university to support their needs and strategic priorities.
Our mission is to develop, implement, and support programs and processes that add value to Saint Leo University and its employees, leading to improved employee welfare, empowerment, growth, and retention, while remaining committed to Saint Leo University's core values and meeting our goals through our most valuable resource: our people.
Your HR Team
Click on a photo for more information.