Events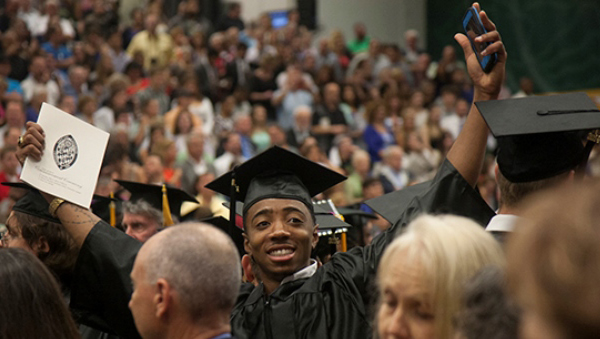 Published on April 25th, 2016 | by University Communications
0
Commencement Activities Scheduled at Saint Leo University April 29 and 30
More than 1,100 students of Saint Leo University will be awarded their degrees during three commencement ceremonies to be held on Friday and Saturday, April 29 and 30, at University Campus in Pasco County. All ceremonies will be held in the Marion Bowman Activities Center.
Ceremony Details
Friday at 3 p.m., Baccalaureate Mass will be celebrated.
The presider of the Baccalaureate Mass will be the Most Reverend Robert N. Lynch '97, bishop of the Diocese of Saint Petersburg and a Saint Leo University trustee.
Friday at 7 p.m., a ceremony will be held for an expected 320 students who have earned bachelor's degrees through the Center for Online Learning
and at the Adult Education Center at University Campus and Pasco-Hernando State College locations (weekend and evening classes). Degrees to be awarded include the Bachelor of Arts, Bachelor of Science, and Bachelor of Social Work.
The guest commencement speaker is U.S. Representative David W. Jolly (pictured), from Florida's 13th
Congressional District, which includes most of Pinellas County. He was first elected to the U.S. House of Representatives in March 2014. Now in his second term, Jolly serves on the House Appropriations Committee, sits on three Appropriations Subcommittees, and is active in veteran affairs. An attorney by profession, he is the youngest of three and was born in Dunedin, FL. He earned his Bachelor of Arts in history from Emory University and later received his law degree from George Mason University. He and his wife, Laura, reside in Indian Shores, FL.
Two students were selected to deliver farewell addresses: Sarah Pass, who is earning the Bachelor of Arts in accounting, will represent the Adult Education Center at University Campus, and Jonathan Ashton, who studied for the Bachelor of Arts in business administration -management, will represent the Center for Online Learning.
Saturday at 9 a.m.,degrees will be conferred to 413 candidates from a broad variety of graduate degree programs: the Master of Business Administration; the Master of Accounting; Master of Science in Computer Science; Master of Science in Criminal Justice; Master of Science in Critical Incident Management, Master of Education, Master of Science in Instructional Design, Master of Theology, and Master of Social Work.
Offering the address is Dr. Rod Paige  (pictured), former U.S. Secretary of Education (2001-2005),who served in the administration of President
George W. Bush. Dr. Paige, a fierce and innovative champion of education reform, has dedicated his life to improving education in the United States. After working as a teacher and coach, he served for a decade as the dean of the College of Education at Texas Southern University (TSU). In 1994, Paige left TSU to become superintendent of the Houston Independent School District, the nation's seventh largest school district. He earned a bachelor's degree from Jackson State University, and master's and doctoral degrees from Indiana University.
Tiffany Dawn Watson, a Master of Theology degree recipient, was selected to deliver the farewell address on behalf of the Class of 2016.
Saturday at 2:30 p.m.,more than 400 traditional undergraduates who studied at University Campus will receive their degrees: the Bachelor of Arts, Bachelor of Science, or Bachelor of Social Work. Additionally, five graduating ROTC cadets, who are prepared to enter the U.S. Army as second lieutenants, will be formally recognized during the ceremony.
The commencement speaker for the undergraduate ceremony is Bob Buckhorn (pictured), mayor of
the City of Tampa. Buckhorn was sworn in as the 58th mayor of the nation's 53rd largest city on April 1, 2011, and was reelected in 2015 with more than 95 percent of the vote. As mayor, Buckhorn serves on several boards and governing authorities, including the Hillsborough County Aviation Authority, the Tampa Hillsborough Expressway Authority, and the Tampa Port Authority. A 1980 graduate of Penn State University, Mayor Buckhorn has focused on the city's and region's economic leadership, stability, and business opportunities. He is married and has two daughters.
Masterson Dempsey, who is earning a Bachelor of Arts in the International Hospitality and Tourism Management Honors Program, was selected to deliver the farewell address to the Class of 2016.
For more information, visit www.saintleo.edu