News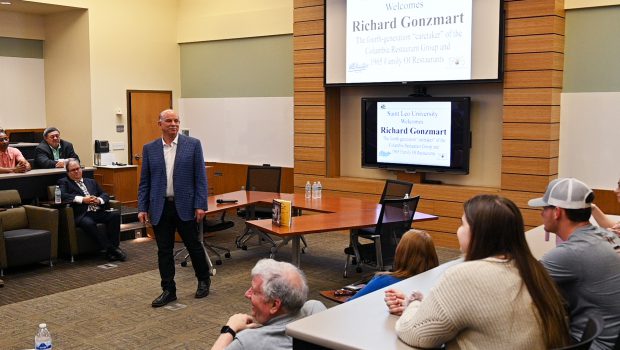 Published on March 31st, 2023 | by University Communications
0
Local restaurateur visits with University Campus students
Richard Gonzmart, fourth generation co-owner of the Columbia Restaurant and 13 other restaurants, shared his business experience with two classes at University Campus on March 29. Gonzmart visited with students in the Principles of Management and Management of Human Resources courses and spoke about the lessons he learned in operating businesses.
"If you don't make mistakes, you'll never be an entrepreneur," Gonzmart said. "You have to take risks and not be afraid to make mistakes in the process."
Gonzmart shared how the Columbia Restaurant was not in a good financial position when he and his brother took over operations in 1992, following the passing of their father. However, it was through hard work and a commitment to building and growing relationships that they were able to help the restaurant achieve success.
Under Gonzmart's direction, the Columbia family of restaurants has expanded from two locations to seven: from the flagship Columbia in Ybor City to locations in Sarasota, St. Augustine, Sand Key on Clearwater Beach, and Celebration, as well as the Columbia Café on the Riverwalk in Tampa, and the Columbia Restaurant Café at Tampa International Airport.
Gonzmart also has opened many other restaurants throughout his career: Cha Coconuts, Ulele, Goody Goody™ Burger, Casa Santo Stefano, and Café con Leche Ybor City.
Thank you to Peter Marian and Dr. Tonya Mazur for graciously hosting Gonzmart in their combined classes. View photos from the visit below.