News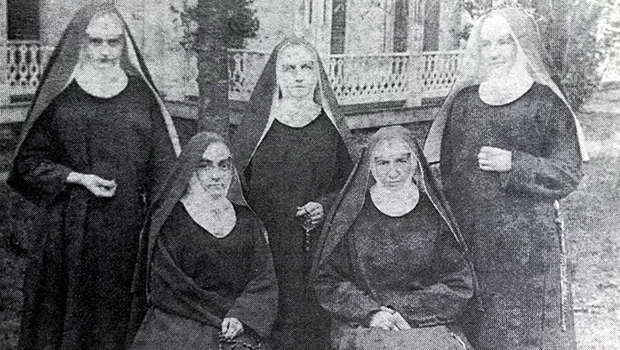 Published on March 2nd, 2023 | by University Communications
0
Benedictine Sisters celebrate 134th anniversary of arrival in Florida
On February 28, the Benedictine Sisters of Florida, marked the 134th anniversary of the founding sisters coming from Pittsburgh to Pasco County, FL, and establishing what was to become today's Saint Leo University.
As we prepare to celebrate International Women's Day on March 8, it is fitting that we remember the sisters who made the journey to teach, as well as the current and future Benedictine Sisters of Florida, who give so much to our community.
"Each year on February 28 we mark one more year celebrating the accumulation of years that the Benedictine Sisters of Florida have lived the words of the reading from [St.] Paul's Letter to the Colossians [Chapter 3]," stated Sister Roberta Bailey, prioress, in the sisters' e-newsletter. 'As God's chosen ones, clothe yourselves with compassion and kindness, humility, meekness and patience. Bear with one another, let peace rule your hearts, live in harmony, teach and admonish one another in wisdom, and never forget to be thankful for what God has done for you.'"
Read more reflections here.
The university community is asked to pray for the Benedictine Sisters of Florida as they celebrate this anniversary.
Photo caption:
Benedictine Sisters of Holy Name Convent and Academy in 1892. Seated from left, Mother Dolorosa Scanlan and Sister Boniface Feldmann. Standing from left, Sister Rose Marie Easly, Sister Agatha Giesler, and Sister Immaculate Walters. Photo from the Holy Name Priory Archives