News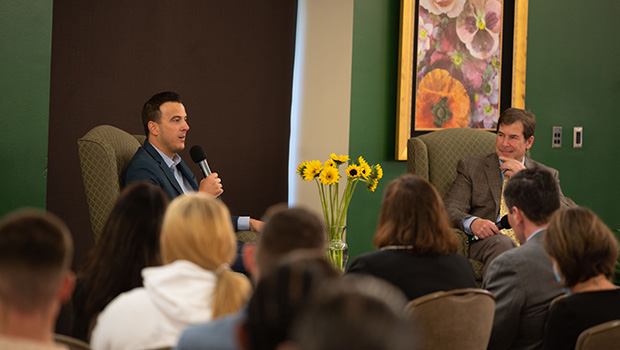 Published on April 4th, 2022 | by University Communications
0
Recording available from March 29 Mission-Driven Leaders event
More than 200 Saint Leo University students, alumni, faculty, staff, and members of the public gathered in the Greenfelder-Denlinger Boardrooms and online for the second Mission-Driven Leaders: Conversations on Purpose event on March 29. Presented by the San Antonio Citizens Federal Credit Union, the event featured alumnus and Vice President of Sales at WeWork Nick DeMarinis.
DeMarinis talked about his career journey after graduating from Saint Leo's University Campus in 2005 and shared his perspective on leadership. He described leadership like a game of golf. It is something that one can never perfect, and it requires continuous work at to get better.
A full recording of the event is available to watch »
In addition to WeWork, DeMarinis has held several leadership positions while at LinkedIn, where he learned about the importance of compassionate leadership and team work.
During the discussion, DeMarinis shared his personal mission statement with the group: "to use the power of positivity and perspective to inspire others to live their best lives." DeMarinis shared that he developed this statement after considering what others have said about his strengths and in reflecting on the impact and legacy he hopes to leave behind.