News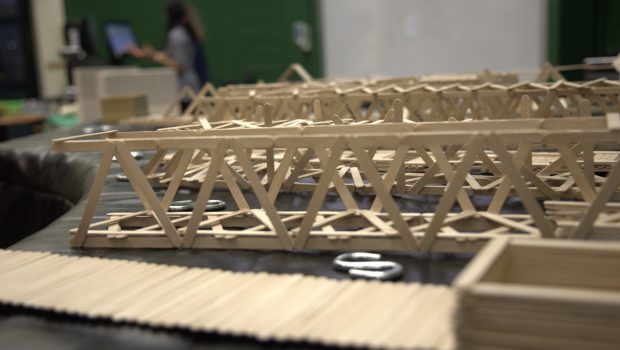 Published on April 1st, 2022 | by University Communications
0
Annual bridge-building contest offers hands-on physics, engineering, teamwork skills
The bridges may have been made from Popsicle® sticks and Elmer's® glue, but they symbolized hard work and team building for Saint Leo students as Department of Natural Sciences hosted its eighth annual bridge-building competition on March 24.
"The construction and testing of model bridges promotes the study and application of principles of physics and engineering and it also helps students develop hands-on' skills," said Dr. Harsha Perera, assistant professor of physics and physical sciences in the College of Arts and Science. "Through participating, students get a flavor of what it is to be an engineer, designing structures to a set of specifications and then seeing them perform their function."
The goal of the contest, which was held in Selby Auditorium, is to build the strongest possible bridge using only Elmer's® glue and no more than 200 standard Popsicle® sticks. The entries must bridge a 1.2-meter span as described in the contest rules.
Eighteen students in eight teams participated in the contest. In the past, former physics professors and Dr. Howard Carey, associate professor of biology, organized the event, but the COVID-19 pandemic prevented it from being held the past two years. Perera brought it back this year for the Saint Leo students, and she hopes to open it to area high school students in the future.
The winner was "Bridge to the Starz" (students had to name their bridges), and it held 66 pounds. The winning team members are Laela Ouellette, Carissa Brown, and Christopher Bove. Ouellette and Bove are ACES (Awarding Career Educators in STEM) Scholars, which is for biology and mathematics majors who choose a minor in education. They are recipients of the Robert Noyce Teacher Scholarship, which develops future teachers in science, technology, engineering, and mathematics.
"It was amazing to see how much weight these Popsicle® sticks can hold," Perera said. "After the event, I got a lot of positive feedback, and the students seemed to learn and enjoy themselves through this event. I would like to thank my amazing colleagues who supported me in many ways from start to end."
View photos from the event below: