News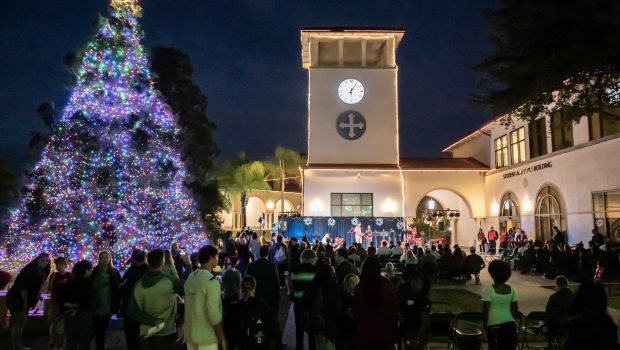 Published on December 9th, 2021 | by University Communications
0
Community enjoys 'A Saint Leo Christmas' celebrations
O Christmas tree, O Christmas tree. How lovely are your branches.
This year, the College of Arts and Sciences, the Department of Language Studies and the Arts, the Division of Student Affairs, and University Ministry teamed to present the university's Christmas celebration, A Saint Leo Christmas, on December 7, outside of the Student Activities Building and on the Kirk Hall lawn at University Campus.
The Saint Leo community of faculty, staff, and students, was joined by members of the public, who enjoyed the university's annual Christmas festivities.
Under the direction of Dr. Cindy Selph, there were two performances of the annual holiday concert, at 4 p.m. and 7 p.m. Christmas refreshments were provided by University President Jeffrey Senese. Dr. Senese and Dr. Heather Parker, dean of the College of Arts and Sciences welcomed everyone to A Saint Leo Christmas. Father Randall Meissen, university chaplain, blessed the university's Nativity and Christmas tree and provided a Christmas prayer, and Student Government Union President Quiwanaki Ramsey, read from the Gospel of Luke 2:1-14.
With a call to "let there be light," the university's Christmas tree was lit.
No Christmas celebration is complete without a visit from some special visitors from the North Pole, and Dr. Senese introduced Santa and Mrs. Claus. The celebrations ended with a Christmas carol sing-a-long with Lucas Nocera, music minister for University Ministry.
Photos by Isaac Jeter, student minister