Athletics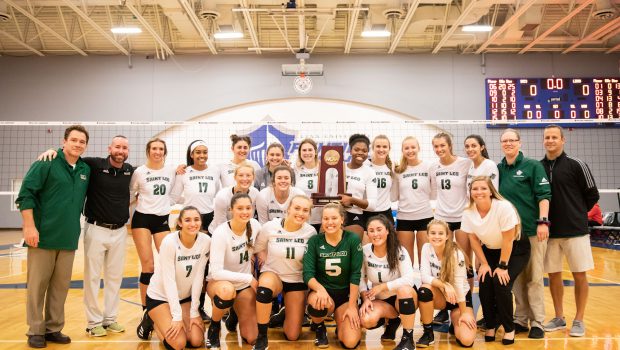 Published on December 9th, 2019 | by University Communications
0
Athletics — Week of December 9
Volleyball advances to national championships December 12-14
Saint Leo volleyball ran away with the South Region title this past weekend in Boca Raton to earn the program's first trip to the 2019 NCAA DII National Championships. The Green and Gold earned the fifth seed in Denver, CO, December 12-14. Read the complete release
Basketball hosts Faculty and Staff Appreciation Night on December 14
Saint Leo men's and women's basketball will take on the University of Tampa on December 14 at 5:30 p.m. and 7:30 p.m. in the Marion Bowman Activities Center. All faculty, staff, and their families will receive free admission to the games and are invited to enjoy complimentary snacks and beverages throughout the doubleheader in the VIP hospitality area located in the balcony.
Saint Leo Athletics opens nominations for Hall of Fame Class of 2020
Saint Leo Athletics will undergo a month-long nomination process for the Hall of Fame Class of 2020. Read the complete release
Basketball drops Sunshine State Conference contests to Moccasins and Sharks
Saint Leo men's and women's basketball teams dropped two Sunshine State Conference matchups against Florida Southern and Nova Southeastern on the week. WBB L at FSC | MBB L at #22 FSC | WBB L vs NSU | MBB L vs #2 NSU
Saint Leo offers camps
Saint Leo Athletics and Recreation offers camps for teams and individuals. For more information, go to saintleocamps.com. Athletics and Recreation are currently offering nine different sport camps with full team camps, daily camps, and individual and specialized skill camps.
Follow your Lions!
Follow your favorite Saint Leo teams on social media! Visit the Saint Leo Athletics' social stream at www.SaintLeoLions.com, and be sure to follow us on Facebook at facebook.com/SaintLeoLions, and on Twitter and Instagram at SaintLeoLions.
Get Saint Leo Athletics scores sent to your phone!
Want score updates sent to your phone? Download the Saint Leo Athletics app in the Google Play Store or the iTunes store and select your favorite teams. You can receive updates on when games start, finish, or even when scores are posted.
RECENT RESULTS & UPCOMING EVENTS