Athletics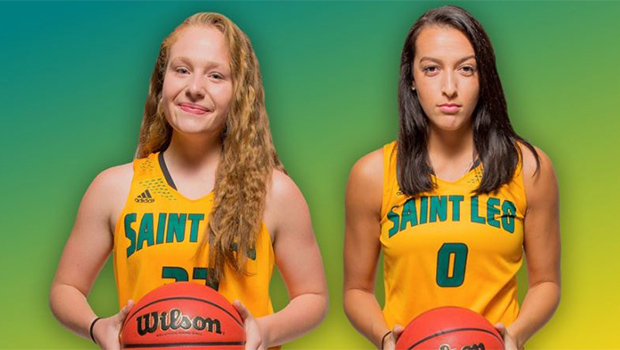 Published on October 30th, 2017 | by University Communications
0
Athletics — Week of October 30
Join Saint Leo Athletics a part of your Homecoming Weekend activities!
Homecoming is back at Saint Leo University, and several Lions teams are home this weekend. Come out and support the Green and Gold!
Friday, November 3
6 p.m. – Saint Leo baseball vs. St. Petersburg College (Thomas B. Southard Stadium)
It's never too early to start thinking about college baseball in the Sunshine State Conference! You can get an early sneak peek at the 2018 Lions on Friday night, as they take on FCSAA State Baseball Tournament qualifier St. Petersburg College at Southard Stadium. No admission charge!
7 p.m. – Saint Leo volleyball vs. Nova Southeastern (Bowman Center)
The Lions have won four in a row coming into Homecoming weekend, including a huge win over No. 3 Palm Beach Atlantic! Can the Green and Gold continue their run? They can with your support! Let's pack the Bowman Center as the Lions host the Sharks in this SSC match-up. Free admission!
Saturday, November 4
4 p.m. – Saint Leo volleyball vs. Barry (Bowman Center)
Saturday afternoon at the Bowman Center should be a blast as the Lions host Barry in another SSC clash. Free admission!
7:30 p.m. – Saint Leo women's basketball vs. Trinity College of Florida (Bowman Center)
Get a first look at the 2017-2018 edition of Saint Leo women's basketball under second-year head coach Anthony Crocitto. The Lions are better than ever, and ready to make their mark in the Sunshine State Conference this season!
Make sure you include cheering for your Lions as part of your Homecoming 2017 plans!
Athletics Giving Challenge continues into week three
The Saint Leo Athletics Giving Challenge roars into week three! So far, more than $59,000 has been contributed to Saint Leo Athletics through the Giving Challenge, and we have two weeks to go.
You can support your favorite team today! Visit our Athletics Giving Challenge webpage at www.SaintLeoLions.com/2017givingchallenge and make a contribution to the Lions team of your choice.
Baseball to hold Lions Hitting Clinic in November
Saint Leo Baseball will be giving younger players a chance to get individualized help with their swing during the four-week Lions Hitting Clinic, which starts Thursday, November 2. Read the complete release
Crocitto names women's basketball team captains for 2017-2018 season
Saint Leo Head Women's Basketball Coach Anthony Crocitto has announced that Gina Brierley and Ragen Dotson will be the Lions' team captains for the 2017-2018 season. Read the complete release
– Saint Leo WBB adds Amber Moore to the coaching staff
Basketball teams announce their 2017-2018 schedules
The Saint Leo men's and women's basketball teams announced their respective schedules for the 2017-2018 season.
– 2017-18 Saint Leo men's basketball schedule
– 2017-18 Saint Leo women's basketball schedule
Want to get Saint Leo sports news sent directly to your email account?

Follow the Lions wherever you go! Sign up for news releases and game scores/recaps from Saint Leo Athletics sent directly to your email account! If you have received these emails in the past, you must re-register through the new SaintLeoLions.com. Register online today!
Follow your Lions!
Follow your favorite Saint Leo teams on social media! Visit the Saint Leo Athletics' social stream at www.SaintLeoLions.com, and be sure to follow us on Facebook at www.facebook.com/SaintLeoLions, and on Twitter and Instagram at SaintLeoLions.
Get Saint Leo Athletics scores sent to your phone!

Want score updates sent to your phone? Download the Saint Leo Athletics app in the
Google Play Store
or the
iTunes store
and select your favorite teams. You can receive updates on when games start, finish, or even when scores are posted.
RECENT RESULTS & UPCOMING EVENTS