Athletics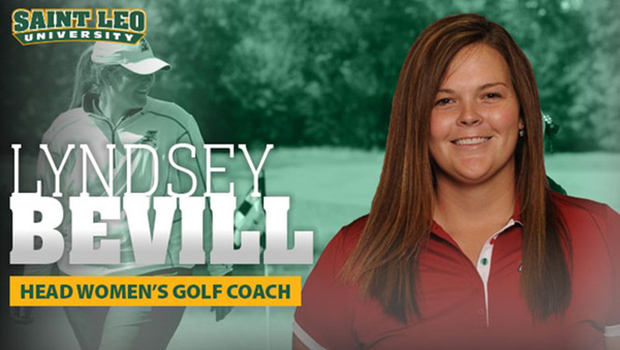 Published on July 31st, 2017 | by University Communications
0
Athletics — Week of July 31
Bevill named Saint Leo's new head women's golf coach
Lyndsey Bevill, long-time assistant coach at the University of Indianapolis, has been named Saint Leo University's new head women's golf coach. Read the complete release
Brierley completes stint with Great Britain Basketball at FIBA European U20 Championship
Saint Leo Gina Brierley completed a seven-game stint with Team Great Britain at the FIBA U20 Women's European Championship, held earlier in July in Eilat, Israel. Read the complete release
Academic honors abound for Saint Leo's student-athletes
Several Saint Leo teams and student-athletes were recognized last week by various coaches associations for their academic achievements during the 2016-17 academic year:
– Women's lacrosse was named an Academic Honor Squad and nine individuals were named to the Academic Honor Roll by the Intercollegiate Women's Lacrosse Coaches Association (IWLCA). Full release
– Volleyball earned the American Volleyball Coaches Association (AVCA) Team Academic Award for the first time in program history. Full release
– Three Saint Leo men's golfers – Casey Bannon, Ryan Gendron, and James Jessop – all received Srixon/Cleveland Golf All-America Scholar honors for 2016-17 from the Golf Coaches Association of America (GCAA). Full release
– The men's and women's tennis teams each were tabbed with All-Academic Team honors for 2017 by the Intercollegiate Tennis Association (ITA). Full men's release / Full women's release
Soccer teams to hold one-day ID Camp on August 5
The Saint Leo men's and women's soccer teams will be jointly hosting a one-day college ID camp on August 5 at the Saint Leo Soccer Field. The ID Camp is open to boys and girls in grades nine through 12 that are interested in a challenging day of soccer. Read the complete release
Follow your Lions!
Follow your favorite Saint Leo teams on social media! Visit the Saint Leo Athletics' social stream at www.SaintLeoLions.com, and be sure to follow us on Facebook at www.facebook.com/SaintLeoLions, and on Twitter and Instagram at SaintLeoLions.
Be among the first to get Saint Leo Athletics scores and updates
Follow the Lions wherever you go! Sign up for score alerts from Saint Leo Athletics by text, by email, and through the Athletics app on your mobile device.
– Register online today to receive email alerts on Saint Leo news and scores!
– Sign up for eScores alerts on your cell phone – the quickest way to get Saint Leo scores!
Get Saint Leo Athletics scores sent to your phone!

Want score updates sent to your phone? Download the Saint Leo Athletics app in the Google Play Store or the iTunes store and select your favorite teams. You can receive updates on when games start, finish, or even when scores are posted.