Athletics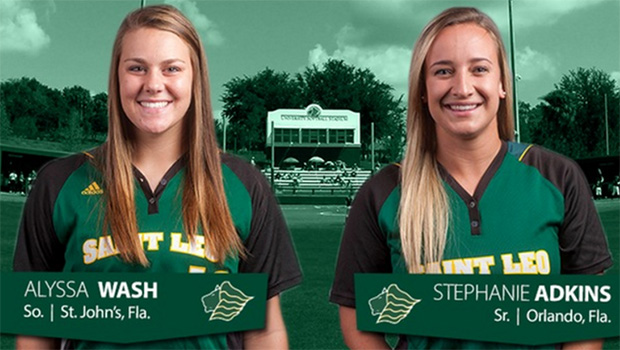 Published on April 17th, 2017 | by University Communications
0
Athletics — Week of April 17
Home Webcasts This Week at www.SaintLeoLions.com/LionsLive
Tuesday – Women's lacrosse vs. Lenoir-Rhyne, 3 p.m.
Friday – Baseball vs. Florida Tech, 6 p.m.
Saturday – Men's lacrosse vs. No. 13 Tampa, 2 p.m.
Tennis teams begin SSC tourney play this week
The Saint Leo men's and women's tennis teams each begin play in the Sunshine State Conference Tennis Championships this week, starting with quarterfinal matches on Thursday, April 20. Semifinal matches will be held on Friday, April 21, with the championships on Saturday, April 22. All matches will be held at the IMG Academy in Bradenton, FL.
Men's tennis earned the No. 2 seed, and will face No. 7 Florida Tech in Thursday's quarterfinals at 10 a.m. The winner will advance to Friday's 10 a.m. semifinal against the winner of the No. 3 Lynn vs. No. 6 Palm Beach Atlantic quarterfinal matchup.
Women's tennis received the No. 6 seed and will square off against No. 3 seed Florida Southern at 3:30 p.m. on Thursday. The winner will move on to a semifinal match on Friday at 3:30 p.m. against the winner of the No. 2 Lynn vs. No. 7 Tampa quarterfinal.
SSC Tennis Championship Central website
Three Lions claim SSC weekly honors
Three Saint Leo spring student-athletes claimed Sunshine State Conference weekly honors last Monday:
– Junior Jake Bye was named SSC Men's Lacrosse Defensive Player of the Week, after contributing at both ends of the field in the Lions' 13-8 win over No. 19 Florida Tech.
– Senior Stephanie Adkins and sophomore Alyssa Wash were named SSC Pitcher and Player of the Week respectively, for their performances as the Lions went 3-0 during the week ending April 9.
Softball climbs to No. 4 in Division II poll
Saint Leo softball improved to No. 4 in this week's National Fastpitch Coaches Association Division II Coaches poll, after winning all three games on their schedule in the previous week. Read the complete release
NCAA committee rankings issued – and women's golf and tennis teams are in the mix
The NCAA Division II committees for women's golf and men's and women's tennis issued their first round of regional rankings last week, which will ultimately determine selection for NCAA post-season play.
– Women's golf was ranked second in the South Region;
– Men's tennis checked in at No. 5 in the South Region;
– Women's tennis was tabbed at No. 8 in the South Region.
Follow your Lions!
Follow your favorite Saint Leo teams on social media! Visit the Saint Leo Athletics' social stream at www.SaintLeoLions.com, and be sure to follow us on Facebook at www.facebook.com/SaintLeoLions, and on Twitter and Instagram at SaintLeoLions.
Be among the first to get Saint Leo Athletics scores and updates
Follow the Lions wherever you go! Sign up for score alerts from Saint Leo Athletics by text, email and through the Athletics app on your mobile device.
– Register online today to receive email alerts on Saint Leo news and scores!
– Sign up for eScores alerts on your cell phone – the quickest way to get Saint Leo scores!
Get Saint Leo Athletics scores sent to your phone!

Want score updates sent to your phone? Download the Saint Leo Athletics app in the
Google Play Store
or the
iTunes store
and select your favorite teams. You can receive updates on when games start, finish, or even when scores are posted.