Athletics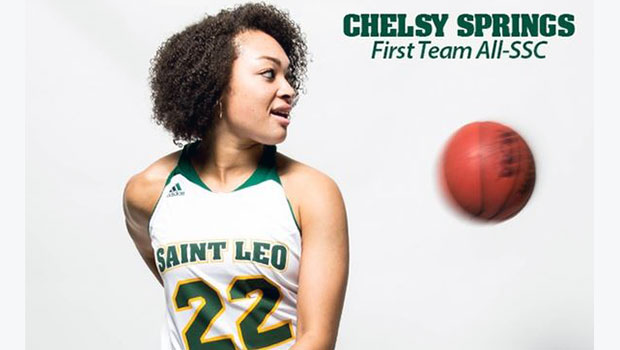 Published on March 6th, 2017 | by University Communications
0
Athletics – Week of March 6
Home Webcasts This Week at www.SaintLeoLions.com/LionsLive
Monday – Baseball vs. Northwood, 4 p.m.
Wednesday – Baseball vs. Catawba, 6 p.m.
Friday – Softball vs. Eckerd, 7 p.m.
Saturday – Softball vs. Eckerd (DH), noon Women's lacrosse vs. Seton Hill, 7 p.m.
Lions tabbed for All-Sunshine State Conference honors
The Sunshine State Conference announced all-conference teams in men's and women's basketball and men's and women's swimming, and Saint Leo was represented on three of the four squads:
– Chelsy Springs was named First Team All-SSC in women's basketball.
– Marcus Dewberry (First Team) and Justin Satchell (All-Newcomer Team) were both selected to the men's basketball All-SSC squads.
– Natalia Garriock, Annie Lindstrom, and Nicole Weber were tabbed for the All-SSC teams in women's swimming.
Three Lions earn SSC weekly honors
Three Saint Leo spring student-athletes were among those feted when the Sunshine State Conference released its list of weekly honors last Monday:
– Senior Marie Coors was named SSC Women's Golfer of the Week, after earning co-champion honors the previous week at the Lady Moc Classic.
– Senior Samantha Ohmie was tabbed the SSC Softball Player of the Week following her .538 batting average and 1.000 slugging percentage over four games the previous week.
– Freshman Delaney Chrisco earned SSC Women's Lacrosse Defensive Player of the Week honors for her efforts in a win over Newberry College.
Softball holds at No. 8 in weekly Division II coaches poll
Saint Leo softball maintained its No. 8 ranking in the weekly National Fastpitch Coaches Association (NFCA) Division II Top 25 Coaches poll, after going 3-1 over the previous week. Read the complete release
Men's lacrosse jumps to No. 15 in USILA/Nike ranking
Saint Leo men's lacrosse moved up to No. 15 after a road win against Coker College that improved the Lions' record to 3-0 on the young 2017 season. Read the complete release
Follow your Lions!
Follow your favorite Saint Leo teams on social media! Visit the Saint Leo Athletics' social stream at www.SaintLeoLions.com, and be sure to follow us on Facebook at www.facebook.com/SaintLeoLions, and on Twitter and Instagram at SaintLeoLions.
Be among the first to get Saint Leo Athletics scores and updates
Follow the Lions wherever you go! Sign up for score alerts from Saint Leo Athletics by text, email and through the Athletics app on your mobile device.
– Register online today to receive email alerts on Saint Leo news and scores!
– Sign up for eScores alerts on your cell phone – the quickest way to get Saint Leo scores!
Get Saint Leo Athletics scores sent to your phone!

Want score updates sent to your phone? Download the Saint Leo Athletics app in the
Google Play Store
or the
iTunes store
and select your favorite teams. You can receive updates on when games start, finish, or even when scores are posted.