Athletics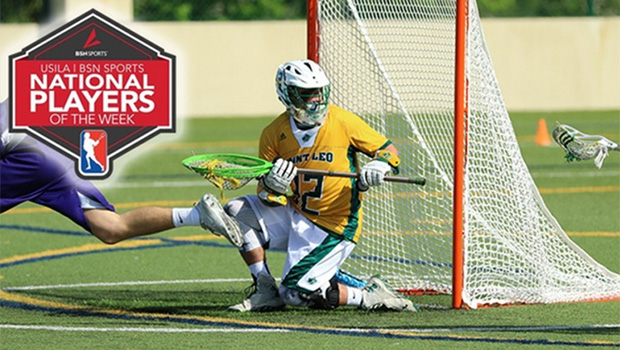 Published on March 27th, 2017 | by University Communications
0
Athletics – Week of March 27
Home Webcasts This Week at www.SaintLeoLions.com/LionsLive
Friday – Softball vs. Barry, 7 p.m.
Saturday – Softball vs. Barry (DH), 1 p.m.
Saint Leo swimming's Lions Swim School starts Tuesday!
There's still time to register for Saint Leo swimming's Lions Swim School! Three weeks of classes in this learn-to-swim program for children ages 4-13 begin on Tuesday, March 28. Information and registration are available online – registrations will be accepted right up to the start of class on Tuesday evening! Read the complete release
Lindstrom earns SSC Women's Swimming Freshman of the Year award
Saint Leo women's swimming freshman Annie Lindstrom was named the Sunshine State Conference Freshman of the Year by the conference's head coaches, after an impressive rookie season for the Lions. Read the complete release
Dewberry named to NABC All-South District team
Men's basketball senior Marcus Dewberry earned a spot on the National Association of Basketball Coaches (NABC) All-South Region team when the squad was unveiled last Monday. Dewberry was a Second Team honoree by the NABC. Read the complete release
Men's lax athletes collect SSC, national honors
Saint Leo men's lacrosse junior Jake Gilmour and sophomore Thomas Tatarian each collected weekly honors from the Sunshine State Conference, with Tatarian receiving national player of the week accolades later in the week.
Vote for the Saint Leo video in the SSC's SAAC video contest!
What motivates you to play? This was the question answered by Saint Leo student-athletes as part of the Sunshine State Conference's Student-Athlete Advisory Committee (SAAC) video contest. The SSC institution receiving the most votes will receive $500 for their school's SAAC. Vote today – voting closes on Thursday!
Registration is now underway for Spirit of Saint Leo Golf Tournament
Get your foursome together and register now for the 2017 Spirit of Saint Leo Golf Tournament, scheduled for Monday, April 10, at the Lake Jovita Golf & Country Club. Come out and join Saint Leo coaches, alumni, and Lions fans in support of Lions athletics. Read the complete release
Follow your Lions!
Follow your favorite Saint Leo teams on social media! Visit the Saint Leo Athletics' social stream at www.SaintLeoLions.com, and be sure to follow us on Facebook at www.facebook.com/SaintLeoLions, and on Twitter and Instagram at SaintLeoLions.
Be among the first to get Saint Leo Athletics scores and updates
Follow the Lions wherever you go! Sign up for score alerts from Saint Leo Athletics by text, email and through the Athletics app on your mobile device.
– Register online today to receive email alerts on Saint Leo news and scores!
– Sign up for eScores alerts on your cell phone – the quickest way to get Saint Leo scores!
Get Saint Leo Athletics scores sent to your phone!

Want score updates sent to your phone? Download the Saint Leo Athletics app in the
Google Play Store
or the
iTunes store
and select your favorite teams. You can receive updates on when games start, finish, or even when scores are posted.