Athletics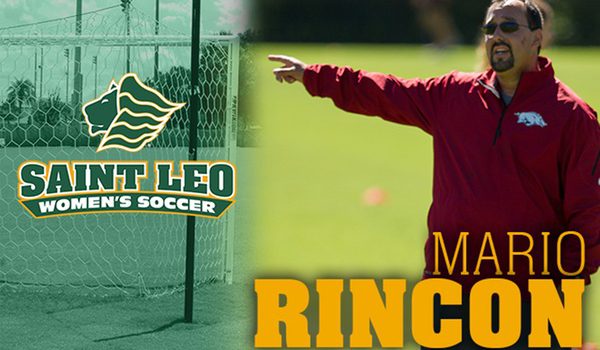 Published on March 20th, 2017 | by University Communications
0
Athletics – Week of March 20
Home Webcasts This Week at www.SaintLeoLions.com/LionsLive
Wednesday – Women's lacrosse vs. Colorado Mesa, 7 p.m.
Friday – Baseball vs. Nova Southeastern, 6 p.m.
Saturday – Women's lacrosse vs. Florida Southern, 4 p.m.
Sunday – Men's lacrosse vs. Young Harris, noon
Mario Rincon named Saint Leo's new head women's soccer coach
Saint Leo has named Mario Rincon as the new head women's soccer coach. Rincon, who comes to Saint Leo from the University of Arkansas, where he was an assistant coach, hails from Florida. Earlier in his career, he was an assistant coach at Sunshine State Conference rival Lynn University. Read the complete release
Saint Leo ranked 24th in Division II Learfield Directors' Cup standings
Saint Leo University checked in at No. 24 in the first winter update in the 2016-2017 Learfield Directors' Cup Division II standings, released on Thursday. Read the complete release
Lions lead women's SSC Mayors' Cup race
With the fall and winter seasons completed, Saint Leo heads into the spring leading the race for the Sunshine State Conference Mayors' Cup in the women's division. The Lions hold a 1 ½-point lead over the University of Tampa. In the men's Mayors' Cup race, Saint Leo is seventh in an extremely tight race. Read the complete release
Dewberry and Springs named to D2CCA All-South Region squad
Saint Leo men's basketball senior Marcus Dewberry and women's basketball senior Chelsy Springs were each named to the Division 2 Conference Commissioners Association (D2CCA) All-South Region Second Teams last week.
– Read the complete Marcus Dewberry/D2CCA release
– Read the complete Chelsy Springs/D2CCA release
Wilson claims SSC men's lacrosse weekly honor
Saint Leo junior Kyle Pauwels was named Sunshine State Conference Men's Lacrosse Specialist of the Week last Monday, after two impressive performances in games against Emmanuel (GA) and Westminster (UT). Read the complete release
Rampf hits NCAA track auto qualifying mark in steeplechase
Saint Leo junior Colett Rampf has already punched her ticket to the 2017 NCAA Division II Outdoor Track and Field Championships, scheduled for late May in Bradenton, FL. Rampf posted a time of 10:18.99 in the 3000m steeplechase on Saturday at the University of South Florida Bulls Invitational, hitting the NCAA Division II automatic qualifying mark in the event. Read the complete release
Registration is now underway for Spirit of Saint Leo Golf Tournament!
Get your foursome together and register now for the 2017 Spirit of Saint Leo Golf Tournament, scheduled for Monday, April 10, at the Lake Jovita Golf & Country Club. Come out and join Saint Leo coaches, alumni, and Lions fans in support of Lions athletics. Read the complete release
Follow your Lions!
Follow your favorite Saint Leo teams on social media! Visit the Saint Leo Athletics' social stream at www.SaintLeoLions.com, and be sure to follow us on Facebook at www.facebook.com/SaintLeoLions, and on Twitter and Instagram at SaintLeoLions.
Be among the first to get Saint Leo Athletics scores and updates
Follow the Lions wherever you go! Sign up for score alerts from Saint Leo Athletics by text, email and through the Athletics app on your mobile device.
– Register online today to receive email alerts on Saint Leo news and scores!
– Sign up for eScores alerts on your cell phone – the quickest way to get Saint Leo scores!
Get Saint Leo Athletics scores sent to your phone!

Want score updates sent to your phone? Download the Saint Leo Athletics app in the
Google Play Store
or the
iTunes store
and select your favorite teams. You can receive updates on when games start, finish, or even when scores are posted.