Athletics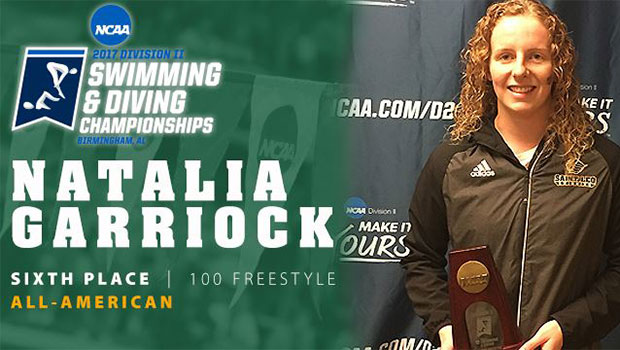 Published on March 13th, 2017 | by University Communications
0
Athletics – Week of March 13
Home Webcasts This Week at www.SaintLeoLions.com/LionsLive
Monday – Baseball vs. Bridgeport, 6 p.m.
Tuesday – Softball vs. Caldwell (DH), 11 a.m.
Men's lacrosse vs. Alabama-Huntsville, 7 p.m.
Wednesday – Baseball vs. Rollins, 3 p.m.
Thursday – Baseball vs. Rollins, 11 a.m.
Saturday – Women's lacrosse vs. Colorado Mesa, 7 p.m.
Garriock earns All-America honors at NCAA swim championships
Saint Leo junior Natalia Garriock finished sixth in the women's 100 Freestyle at the 2017 NCAA Division II Swimming & Diving Championships, earning All-America honors in the process. Read the complete release
Pauwels claims SSC men's lacrosse weekly honor
Saint Leo junior Kyle Pauwels was named Sunshine State Conference Men's Lacrosse Offensive Player of the Week last Monday, after charting six goals against No. 2 Limestone College. Read the complete release
Volleyball announces summer camp schedule
Saint Leo volleyball and head coach Sam Cibrone have announced the Lions' 2017 summer camp schedule. The Lions will be running three different camps this summer, focusing on different age and position groups. Read the complete release
Follow your Lions!
Follow your favorite Saint Leo teams on social media! Visit the Saint Leo Athletics' social stream at www.SaintLeoLions.com, and be sure to follow us on Facebook at www.facebook.com/SaintLeoLions, and on Twitter and Instagram at SaintLeoLions.
Be among the first to get Saint Leo Athletics scores and updates
Follow the Lions wherever you go! Sign up for score alerts from Saint Leo Athletics by text, email and through the Athletics app on your mobile device.
– Register online today to receive email alerts on Saint Leo news and scores!
– Sign up for eScores alerts on your cell phone – the quickest way to get Saint Leo scores!
Get Saint Leo Athletics scores sent to your phone!

Want score updates sent to your phone? Download the Saint Leo Athletics app in the
Google Play Store
or the
iTunes store
and select your favorite teams. You can receive updates on when games start, finish, or even when scores are posted.