News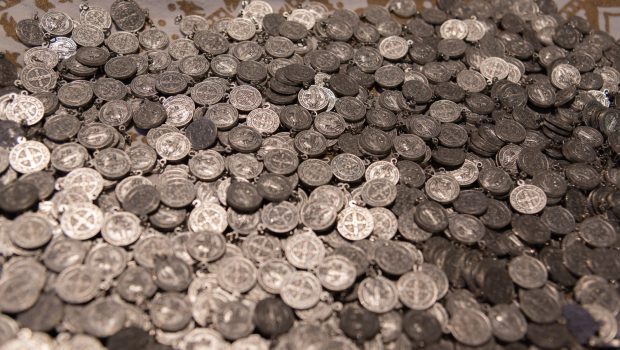 Published on August 18th, 2021 | by University Communications
0
New students to receive blessed St. Benedict medals
New Saint Leo University students will receive a blessed St. Benedict medal, which represents a prayer asking for God's blessing and protection through the intercession of the saint.
Father Randall Meissen, university chaplain, blessed the medals on August 16, in front of the statue of St. Benedict in the Saint Leo Abbey Church. University Ministry is providing the medals which will be included in students' welcome packages they will receive when they move to campus this week.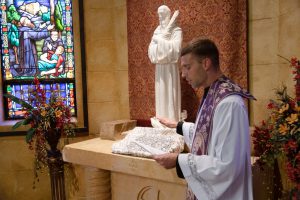 Saint Leo's core values are based on St. Benedict's rule, and the university was founded in 1889 by Benedictine priests, monks, and sisters. The medal the students will receive depicts St. Benedict holding a cross in his right hand, the Christian symbol of salvation, and in his left hand is his rule for monasteries. The back of the medal features the Benedictine cross, which you also can see atop the university's clock tower. The medal's large letters C S P B stand for Crux Sancti Patris Benedicti (The Cross of [our] Holy Father Benedict).
We ask that St. Benedict intercede on the behalf of all our incoming students and may they grow in knowledge, strength, and faith this academic year.