Athletics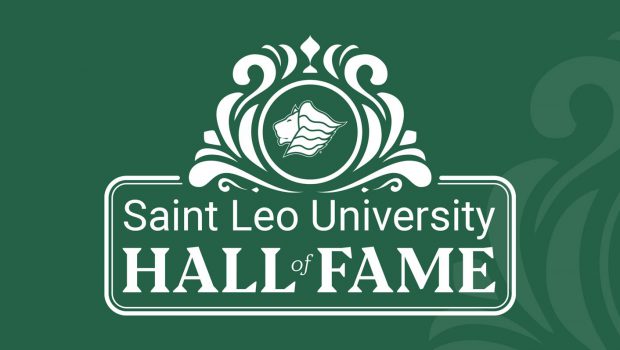 Published on September 25th, 2020 | by University Communications
0
Saint Leo Athletics announces Hall of Fame Class of 2020
Saint Leo Athletics recently announced its Hall of Fame Class of 2020, which features seven individual honorees and one team that will be inducted into the Hall of Fame.
Inductees in the Class of 2020 include Kit Gardner '60 (baseball, football, basketball, and track and field); Daphine Washington '93 (women's basketball); Pat Bowen '99 (baseball); Hannah Beard '09 (women's soccer); Marcus Ruh '13 (men's basketball); Matt Obermeyer '14 (men's lacrosse); Jaclyn Mailoto '14 (volleyball); and the 2005 men's soccer team.
"This is a really great class of Hall of Famers," said Francis X. Reidy, Saint Leo University vice president and director of Athletics. Reidy also is the chair of Hall of Fame Committee and was inducted into the Hall of Fame in 2008.
"We have inductees who are at the top in the records books, others who helped propel their teams to NCAA postseason play, and the 2005 men's soccer team, which earned the first Sunshine State Conference title in school history, and in doing so, set the tone which has led to 23 additional SSC champions. This class not only excelled during competition, but in the classroom too, as evidenced by the diversity of the recognition they received during their careers for the Green and Gold."
Reidy added: "We are disappointed we can't get them officially into the Hall of Fame until next fall, but the Saint Leo community looks forward to providing the Class of 2020 with an event matching their exceptional achievements." Here's a look at the inductees:
Kit Gardner '60 (Baseball, Football, Basketball, Track & Field) A student at Saint Leo Prep from 1957-60, Kit Gardner enters the Hall of Fame following a prep career which saw him compete for four different Saint Leo athletic programs. He excelled on the field in football, on the court in men's basketball, on the diamond in baseball and on the track with the track & field program. He served as both the kicker and quarterback for the football team while starting as a guard on the hardwood. He patrolled shortstop for the baseball team while competing in the hurdles on the track. He was a two-time "The Yankee Clipper" award winner at Saint Leo, the highest athletic award given out during the Saint Leo Prep era. Gardner went on to serve in the United States Air Force and served as a golf professional at the Columbia Country Club in Columbia, S.C.
Daphine Washington '93 (Women's Basketball) Prolific scorer and rebounder Daphne Washington joins the Saint Leo Athletic Hall of Fame following a four-year career on the court at Saint Leo. Washington, who still ranks second in career scoring at Saint Leo, scored 1,495 career points for the then-Monarchs. She also pulled down an impressive 704 career rebounds which still ranks fifth in the record book. Her impressive 54.0 percent shooting from the field is still top in the Saint Leo record book which was helped by her single season Saint Leo record of 58.8 percent which she shot in the 1991-92 season Her single season mark bested her previous school record of 57.9 percent which she accumulated during the 1990-91 campaign. She was named the Sunshine State Conference Freshman of the Year in 1989-90 and went on to be a two-time Honorable Mention All-SSC selection and a Second Team All-SSC performer as a junior.
Pat Bowen '99 (Baseball) A former walk-on now turned Hall of Famer, Pat Bowen spent four years as a member of the Saint Leo baseball program from 1995-99 under head coach John Schaly. He served as a starting pitcher for the then-Monarchs. He finished his four-year career ranked second in career strikeouts at Saint Leo with 266, a mark that still holds the second spot in 2020. He completed his time at Saint Leo with a 20-8 career mark including five saves. His 20 wins ranked him third all-time at the end of the 1999 season. During his junior campaign he ranked seventh among all NCAA Division II pitchers for strikeouts per nine innings at 11.9. He helped guide the Monarchs to a pair of NCAA postseason appearances in 1996 and 1999. He started and led Saint Leo to an 11-8 victory over Florida State in May of 1998. He was selected as an All-South Region honoree in 1999 and a First Team All-Sunshine State Conference selection. As a junior, he earned Second Team All-SSC honors. Following his collegiate playing days, he was drafted in the 34th round of the Major League Baseball draft by the Anaheim Angels.
After a few years of professional baseball Bowen began coaching youth sports beginning as an assistant varsity baseball coach and head junior varsity coach at Greensboro Day School. He went on to be the head softball coach at Bishop McGuinness Catholic School before landing in his current role as head baseball coach at Bishop McGuinness as well as the offensive coordinator for the football program.
The 2005 Saint Leo Men's Soccer Team led by head coach Joel Harrison became the first program in school history to capture a Sunshine State Conference Championship after an impressive 7-1 run in conference play and a 15-1 regular season mark. Unfortunately, due to Hurricane Wilma the team was unable to compete for an SSC Tournament Championship but earned the right to host the 2005 NCAA South Regional. Due to the hurricane, Saint Leo had a 14-day layoff before competing in the regional final against Lynn, falling 3-1. The team was led by All-American and Saint Leo Athletics Hall of Fame Class of 2017 member Asmir Pervan along with four others who earned All-SSC honors including Brent Stanze, Matias Pereze, Saint Leo Athletics Hall of Fame Class of 2018 member Eusebio Herrera-Montoya and Giancarlo Conte. Pervan was named SSC Player and Offensive Player of the Year while Montoya brought home Freshman of the Year honors. Harrison was named the SSC Coach of the Year for his efforts as well.
Hannah Beard '09 (Women's Soccer) One of the most decorated women's soccer student-athletes in Saint Leo University history, Hannah Beard was a four-year contributor to the Lions program. A four-time All-Sunshine State Conference selection, Beard set numerous program records during her four years and still holds two career marks, one single season record and three single-game highs. She is the all-time leader in assists (31) and games played (76) while holding the single season record for assists with 12 in 2008. Beard was a two-time NSCAA Scholar All-American, three-time NSCAA All-Region honoree and was named an NSCAA All-American as a junior. She was honored as the SSC Offensive Player of the Year as a junior and was named to a pair of SSC All-Tournament teams. As a junior she helped lead Saint Leo to its first SSC Tournament Championship in program history. She ended her time at Saint Leo with 76 career games played, 46 goals, 31 assists and 123 total points. Following her time with the Lions, Beard went on to play professionally in both the United States and Australia.
Marcus Ruh '13 (Men's Basketball) Despite only spending two seasons at Saint Leo, Marcus Ruh left an indelible impact on the Saint Leo men's basketball program from 2011-13. In just two short years, Ruh scored 859 points, an impressive 14.8 points per game, under current head coach Lance Randall. He not only excelled on the court but also in the classroom. He was named the NCAA Division II Conference Commissioner's Association Male Scholar-Athlete of the Year in 2013. He was also the CoSIDA Capital One Men's Basketball Academic All-American of the Year. He earned First Team All-Region honors for his work on the court and was the South Region Scholar-Athlete of the Year. He earned Third Team All-American honors from the D2Bulletin and was the 2012-13 SSC Player of the Year. He also earned the SSC Male Scholar-Athlete of the Year honor while earning the Saint Leo Male Athlete and Scholar-Athlete of the Year honors. During his junior campaign he was named a First Team All-SSC selection and to the 2011-12 All-SSC Newcomer Team. Following his time at Saint Leo he pursued a professional career in Australia spending one season with the Ringwood Hawks. Ruh also spent time as a coach with the Green Bay Storm on the AAU circuit before obtaining his current role as a marketing and promotions manager for Anduzzi's Sports Club.
Matt Obermeyer '14 (Men's Lacrosse) A dynamic goal scorer now turned Hall of Famer, Matt Obermeyer spent four years as a member of the Saint Leo men's lacrosse program from 2010-2014 under current head coach Brad Jorgensen. Obermeyer currently holds four records in the top 10 including, 135 career goals (1st), 2.5 goals per game (3rd), 158 career points (4th), and 2.93 points per game (7th). As a freshman, he made an instant impact charting 33 goals and five assists on the season, where those numbers eventually led to him being named the Deep South Freshman of the Year. The next three years the accolades continued to roll in. He earned First Team All-Conference honors from 2012-2014, was named Capital One CoSIDA Academic All-District in 2012 and 2013, achieved USILA Scholar All-American honors in 2014, and topping the charts would be the Deep South Player of the Year award in 2013. Obermeyer went on to graduate from Saint Leo in 2014 with a major in marketing, and is currently the Director of Operations at SpotX which is a global video advertising platform.
Jaclyn Mailoto '14 (Volleyball) Joining in a line of impressive Saint Leo volleyball student-athletes, Jaclyn Mailoto enters the Saint Leo Athletics Hall of Fame following a four-year career which spanned 2010-13 under former head coach Sam Cibrone. Mailoto ran the Saint Leo offense as a setter earning First Team All-Sunshine State honors in 2013 following an All-Freshman Team selection in 2010. As a senior, she was named to the AVCA All-South Region First Team as well as Honorable Mention All-America. She led the competitive SSC in both assists (1,366) and assists per set (11.78), the 11.78 assists per set still olds the single season mark at Saint Leo. Her 3,222 career assists currently rank second in the Saint Leo career record book while her 8.57 assists per set come in at fourth. Mailoto went on to coach club volleyball for 850 Elite Volleyball Academy in Valparaiso, Fla.
For the latest news, updates, and information on the Saint Leo Department of Athletics, be sure to visit SaintLeoLions.com. Fans can also stay up-to-date on the latest Lions news by following Saint Leo Athletics on Facebook, Twitter, Instagram, and YouTube.
About the Saint Leo Athletics Hall of Fame
The Hall of Fame was organized by the Saint Leo Alumni Association and Athletic Department in 1986-87. Committee membership provides a broad representation of the University's alumni and involves the administration, faculty, and athletic department.
Purpose
The purpose of the Saint Leo Hall of Fame is to honor former students, coaches, and administrators who excelled in Saint Leo athletics in the Prep School, Junior College or Senior College. Its purpose is to perpetuate the memory of those persons who have brought distinction, honor, and excellence to Saint Leo athletics and familiarize the entire campus community and alumni with the university's rich athletic history.