News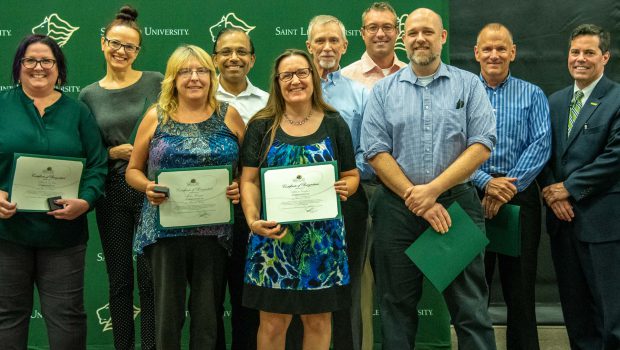 Published on August 19th, 2019 | by University Communications
0
See photos from Community Day
On August 13, faculty and staff from across the university joined together for Saint Leo University's fall Community Day. It is a time to celebrate the people who have served our university and also prepare for the year ahead.
"It's great to have everyone back and ready to welcome our record-breaking class," said President Jeffrey Senese, as he opened up the afternoon program.
Community Day started with the presentation of core values awards. One award is given for each core value to a deserving faculty or staff member. The recipients of this year's recognition included:
Excellence: Amanda Laffin
Integrity: Mike D'Ambrosio
Personal Development: Tiffany Nelson
Community: Marcal Lazenby
Respect: Jennifer Alexander
Stewardship: James DeTuccio
Following the core value awards, staff were celebrated for 5, 10, 15, 20, 25, and 35 years of service. Sister Roberta Bailey, prioress of the Benedictine Sisters of Florida, also was recognized for celebrating her diamond jubilee, marking 60 years of service in religious life.
Then President Senese presented on the state of the university. He highlighted that the university recently completed an economic impact study, which revealed Saint Leo has a $343.4 million impact on the Tampa Bay area economy and a $939.9 million impact nationally. Additional details about the study will be made available soon.
He also touched on some key updates with the Renaissance 2021 strategic plan, discussed next steps for the climate and cultural diversity survey, the wellness center, new coffee house, the university's partnership with the Tampa Bay Buccaneers, and enrollment strategies, among other topics.
Faculty and staff who were not able to attend Community Day may view the full presentation online: http://itod.saintleo.edu/Mediasite/Play/d4eabb5e4b31484089d0e8b9bc7a80721d