News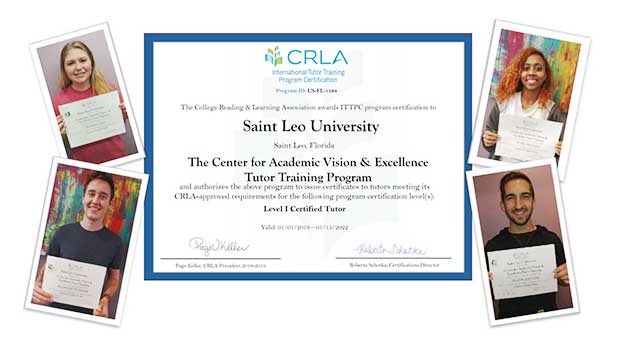 Published on July 3rd, 2019 | by University Communications
0
The Center for Academic Vision & Excellence receives certification
Recently, 24 tutors from Saint Leo's Center for Academic Vision & Excellence (The CAVE) received level 1, stage two international tutor certification from the College of Reading and Learning Association (CRLA) during the 2018 – 2019 academic year.
CRLA certification encourages excellence in tutoring and helps to generate a spirit of teamwork and professionalism in the advancement of student learning by tutors and department members.
The CRLA organization is comprised of professionals active in the fields of reading, learning assistance, developmental education, tutoring, and mentoring at the college/adult level. Its purpose is to provide a forum for idea-sharing and information, to improve student learning, and to facilitate the professional growth of its members.