News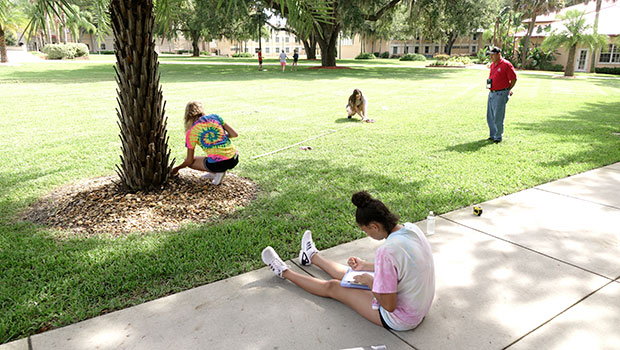 Published on June 29th, 2018 | by University Communications
0
CSI Summer Camp offered for high school juniors, seniors at University Campus
Scouring a crime scene, looking for clues, dusting for fingerprints—Saint Leo University is offering rising high-school juniors and seniors the opportunity to delve into the world of CSI—crime scene investigation.
The first CSI Summer Camp hosted by Saint Leo University was a success! High school juniors and seniors from near and far arrived on Sunday, June 24 and graduated from the camp on Friday, June 29. The camp was featured on WTTA-TV (Great 38) and WFLA-TV (News Channel 8) during multiple broadcasts on June 28.
The students learned that unlike television shows such as Law and Order: SVU, CSI, and Criminal Minds, crime solving takes a lot of effort—and time. Most crimes are not neatly solved in an hour (plus commercial breaks).
Students got a taste of history, science, math, geography, civics, and more as they learned crime-solving techniques. Saint Leo University boasts a thriving criminal justice program, and spurring an interest in high school students was just one of the goals of the CSI Summer Camp.
Faculty members Charlotte Braziel, Dr. Bobby Sullivan, Dr. Karin May, and Joseph Cillo taught the high school students and provided students a hands-on and behind-the-scenes look at evidence collection, documentation, and preservation as they processed a variety of mock crime scenes. They also presented the evidence in a mock courtroom situation.
Most of the students remain interested in criminal justice-related careers with some saying they want to be FBI agents, another a medical examiner, and another hopes to focus on the behavioral aspects of crime. And some hope to be Lions in the future.