Athletics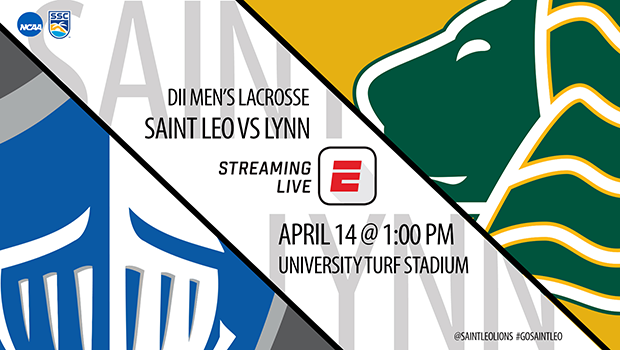 Published on April 9th, 2018 | by University Communications
0
Men's lacrosse to be featured in ESPN Division II Showcase on Saturday
The men's lacrosse game between No. 6 Saint Leo University and Lynn University was selected to be part of ESPN Division II Showcase at 1 p.m., Saturday, April 14, at Saint Leo's University Turf Stadium. ESPN will directly stream live the Lions and Fighting Knights in the Sunshine State Conference match at WatchESPN.
Come out and cheer on your Saint Leo Lions! If you can't get to the stadium, be sure to watch on ESPN3.
On Monday, April 2, Saint Leo advanced to No. 6 among the U.S. Intercollegiate Lacrosse Association rankings. On the season, Kyle Pauwels and Jake Gilmour lead the Lions' offense and red-shirted junior goalkeeper Thomas Tatarian continues his streak of stellar saves.
Prior to the ESPN game, Saint Leo will be in action at 7 p.m., Wednesday, April 11, in Lakeland, FL, to face Florida Southern College.
ESPN3 is ESPN's live multiscreen sports network. It is accessible on computers, smartphones, tablets, and streaming devices through the ESPN App. The network is available nationwide at no additional cost to fans who receive their high-speed Internet connection or video subscription from an affiliated service provider. It is also available at no cost to U.S. college students and U.S.-based military personnel via computers, smartphones, and tablets connected to on-campus educational and on-base military broadband and Wi-Fi networks.
For the latest news, updates, and information on the Saint Leo men's lacrosse, be sure to visit SaintLeoLions.com.