Athletics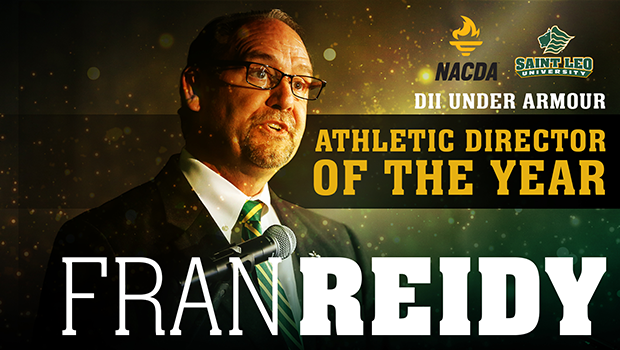 Published on March 11th, 2018 | by University Communications
0
Athletics — Week of March 12
Saint Leo Athletics teams continue in national polls
Eight Saint Leo athletic teams are ranked within the Top 20 in their respective national polls. Women's golf leads the way with a third rank where men's tennis (seventh), softball (eighth) and men's golf (eighth) all cracked the top-10. Men's swimming holds down 10th while men's lacrosse (11th), women's tennis (13th) and baseball (18th) all sit inside the Top 20.
Saint Leo Director of Athletics Reidy Named AD of the Year
For the third time in the six years, Saint Leo Director of Athletics Francis X. Reidy was named the Division II Under Armour Athletic Director of the Year. Reidy was one of 28 ADs to earn the award this year. Read the complete release
Saint Leo placed 50 student-athletes on the Fall SSC Commissioner's Honor Roll
A total of 50 Saint Leo student-athletes were named to the Sunshine State Conference Commissioner's Honor Roll for the 2017 fall semester, announced on Wednesday, March 7, by SSC Commissioner Ed Pasque. Read the complete release
Baseball continues to rise in NCBWA national poll after sweep of Barry
Saint Leo baseball moved up one spot in the latest National Collegiate Baseball Writers Association (NCBWA) to 17th after posting a 5-0 record over the last week of play, including a Sunshine State Conference sweep of Barry to remain undefeated in SSC play. Read the complete release
Garriock named First Team All-SSC for fourth consecutive season
Natalia Garriock was named All-Sunshine State Conference First Team member for the fourth consecutive year, when the league announced the teams Thursday, March 8. During the 2018 SSC Championships, Garriock earned 69 points, six medals, during her second place finish among the conference championship swimmers. Read the complete release
Isaacson earns Baseball SSC Player of the Week
Junior Peyton Isaacson continues to lead Saint Leo baseball and was named the Sunshine State Conference Baseball Player of the Week following his performance on the field for the week ending March 4. Read the complete release.
Davis earns women's lacrosse SSC Defensive Player of the Week
Erin Davis earned her first SSC weekly honor after helping the women's lacrosse team to a 5-0 start. Davis posted a .550 save percentage after 105 minutes of action between Lions' two-game weekend at Belmont Abbey (3/2, W 19-8) and Lenior-Rhyne (3/4, W 18-4). Davis recorded 11 saves while allowing just nine goals. Read the complete release
Pauwels Earns USILA Division II Team of the Week Honors
Kyle Pauwels was selected to the USILA DII Team of the Week for the second time this season. Pauwels scored on every shot in the Lions setback to then-No. 16 Mount Olive. Read the complete release
Follow your Lions!
Follow your favorite Saint Leo teams on social media! Visit the Saint Leo Athletics' social stream at www.SaintLeoLions.com, and be sure to follow us on Facebook at www.facebook.com/SaintLeoLions, and on Twitter and Instagram at SaintLeoLions.
Get Saint Leo Athletics scores sent to your phone!

Want score updates sent to your phone? Text "Follow SaintLeoScores" to 40404 and get score alerts from Saint Leo Athletics.
RECENT RESULTS & UPCOMING EVENTS