Athletics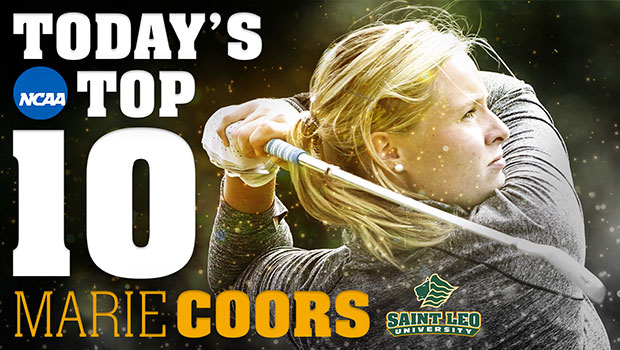 Published on December 11th, 2017 | by University Communications
0
Athletics — Week of December 11
Women's basketball stuns top 10-ranked Rollins, 44-34
Saint Leo women's basketball knocked off Rollins College, 44-34, on Saturday, giving the Lions what is believed to be their first victory over a top 10 team in program history. Rollins was ranked No. 8 in the Division II Sports Information Directors Association (D2SIDA) poll and No. 12 in the Women's Basketball Coaches Association (WBCA) poll, and the win over the Tars gives Saint Leo a three-game winning streak. Read the complete release
Marie Coors '17 selected for NCAA Today's Top 10 Award
Saint Leo graduate Marie Coors '17, who won the individual title at the 2017 NCAA Division II Women's Golf Championship and was the CoSIDA Division II Academic All-America of the Year, was named a recipient of the NCAA Today's Top 10 Award. The NCAA Today's Top 10 Awards, which are presented to 10 top graduating seniors from 2016-17, will be presented during the Honors Celebration at the 2018 NCAA Convention in Indianapolis, IN, on January 17. Read the complete release
Saint Leo Athletics ranked No. 32 in Learfield Directors' Cup standings update
Saint Leo University was ranked No. 32 in the second Fall update in the 2017-18 Division II Learfield Directors' Cup standings. The Lions hold the highest ranking of any Sunshine State Conference institution. Read the complete release
Garrett named to AVCA All-America team
Women's volleyball sophomore Anna Garrett was an Honorable Mention selection to the American Volleyball Coaches Association (AVCA) Division II Al-America team, which was announced last Tuesday. Read the complete release on Rosie Young
Baseball inks seven prospects during November signing period
Saint Leo Baseball signed seven prospective student-athletes to National Letters-of-Intent during the November signing period. The seven newcomers which will join the Lions for Fall 2018. Read the complete release
Upcoming winter camps & clinics for Saint Leo teams
Several Saint Leo teams are offering winter camps and clinics over the coming weeks – among them are Saint Leo baseball, softball, and women's lacrosse. For a full list of Saint Leo's camp and clinic offerings, check out the camps website at http://www.SaintLeoCamps.com.
Follow your Lions!
Follow your favorite Saint Leo teams on social media! Visit the Saint Leo Athletics' social stream at www.SaintLeoLions.com, and be sure to follow us on Facebook at www.facebook.com/SaintLeoLions, and on Twitter and Instagram at SaintLeoLions.
Get Saint Leo Athletics scores sent to your phone!

Want score updates sent to your phone? Download the Saint Leo Athletics app in the
Google Play Store
or the
iTunes store
and select your favorite teams. You can receive updates on when games start, finish, or even when scores are posted.
RECENT RESULTS & UPCOMING EVENTS