Athletics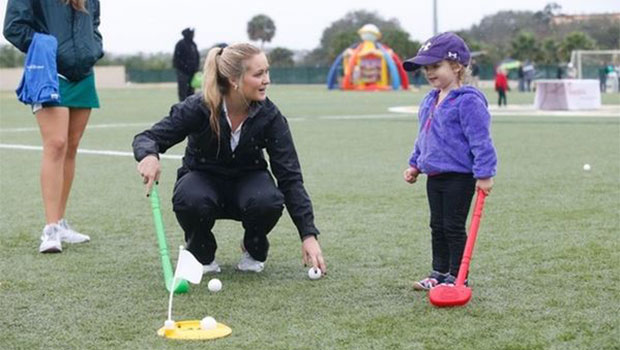 Published on February 6th, 2017 | by University Communications
0
Athletics – Week of February 6
Home Webcasts This Week at www.SaintLeoLions.com/LionsLive
Wednesday, February 6
WBB vs. Lynn, 5:30 p.m.
MBB vs. Lynn, 7:30 p.m.
Friday, February 10
Baseball vs. Lee University, 6 p.m.
Saturday, February 11
Men's lacrosse vs. Chowan, 1 p.m.
WBB vs. Florida Tech, 5:30 p.m.
MBB vs. Florida Tech, 7:30 p.m.
Saint Leo to host clinic for National Girls and Women in Sports Day
Saint Leo will recognize National Girls and Women in Sports Day on February 25 with a free sports clinic at University Soccer Field. Following the clinic, free pizza will be provided, and participants are welcome to stay for the softball team's doubleheader at noon and 2 p.m. Swimmer Melanie Margalis, a Clearwater native and 2016 Olympic Gold Medalist, will be in attendance throughout the day. Read the complete release
Ged O'Connor accepts position at Division I Troy University
Ged O'Connor, Saint Leo's head women's soccer coach for the past 11 seasons, has stepped down to accept the head coaching position at Troy University in the Sun Belt Conference. Read the complete release
Three Saint Leo student-athletes pick up SSC and national weekly honors
Swimmers Lucas Dengler-Harles and Nicole Weber were named Sunshine State Conference Swimmers of the Week for men's and women's swimming, while Natalia Garriock was selected the CollegeSwimming.com Division II National Swimmer of the Week.
– Dengler-Harles tabbled SSC Men's Swimmer of the Week
– Weber named SSC Women's Swimmer of the Week
– Garriock earns CollegeSwimming.com national honor
Swim teams ranked No. 17/No. 22 in final CSCAA/TYR Division II poll
Saint Leo men's swimming held onto a spot among the top 20 programs in Division II, moving up to No. 17 in the final College Swimming Coaches Association of America (CSCAA)/TYR Division II Swimming & Diving Coaches polls which were unveiled earlier this week. The Saint Leo women's team broke back into the rankings, coming in at No. 22. The Lions return to the poll for the first time since November 16, 2016, as they finished the regular season undefeated. Read the complete release
Follow your Lions!
Follow your favorite Saint Leo teams on social media! Visit the Saint Leo Athletics' social stream at www.SaintLeoLions.com, and be sure to follow us on Facebook at www.facebook.com/SaintLeoLions, and on Twitter and Instagram at SaintLeoLions.
Be among the first to get Saint Leo Athletics scores and updates
Follow the Lions wherever you go! Sign up for score alerts from Saint Leo Athletics by text, email, and through the Athletics app on your mobile device.
– Register online today to receive email alerts on Saint Leo news and scores!
– Sign up for eScores alerts on your cell phone – the quickest way to get Saint Leo scores!
Get Saint Leo Athletics scores sent to your phone!

Want score updates sent to your phone? Download the Saint Leo Athletics app in the
Google Play Store
or the
iTunes store
and select your favorite teams. You can receive updates on when games start, finish, or even when scores are posted.