News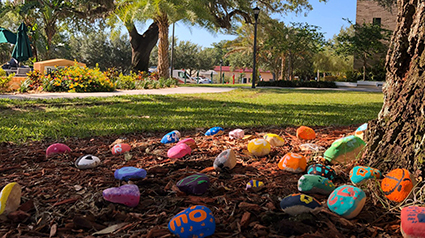 Published on November 9th, 2020 | by University Communications
0
Celebrating World Kindness Day on November 13
On Friday, November 13, people across the world will observe World Kindness Day in an effort to promote acts of kindness large and small. Saint Leo faculty, staff, and students are encouraged to engage in acts of kindness throughout this week, on World Kindness Day, and throughout the year.
At University Campus, Student Government Union President Ashley Butler created the Kindness Tree initiative as a way to inspire others during the COVID-19 pandemic. The rocks at the base of the tree provide students with a low contact way to leave or take an encouraging note.
During the summer, resident assistants and employees painted rocks to help create some momentum, and Student Government Union has since made painting supplies available to students for pick-up. Since then, many of the painted rocks have been taken by students who need encouragement or who want to give encouragement to others. The hope is that students will continue paint images that bring them joy or paint words that inspire them so that others may enjoy and "hear" their message.
On World Kindness Day, Student Government Union also will be organizing an activity to help spread kindness at University Campus. Check back here as more details will be posted soon.